OK, that might be overselling it a bit, so let's call the Sears Portable Power 1150, a "VERY useful" van camping tool.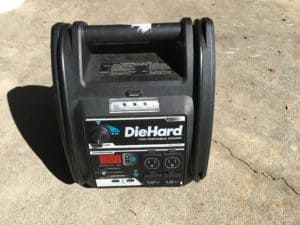 Every van dweller or van camper should have one of these rechargeable battery packs.  Here's what it can do:
Jump start a dead battery.  The cables are built in, so you don't need to worry about getting your vehicle in the right position.  Useful when you accidentally run down the battery (it WILL happen at some point) in the middle of nowhere.  Or, be a good Samaritan.
Recharge your USB device.  I don't care how big it is, this will recharge it multiple times.
Provide 110v with a built-in 400W inverter (that's a continuous 3.6 amps).  I run my immersion heater using this and have even run my 180W ceramic heater for over an hour from the battery pack.
Inflate your tires up to 100 psi.  Just set the exact pressure with the digital display.  Great to check the bikes before setting out.
Light up the van or a workspace with the built-in LED utility light.
Power another 12v accessory using the two cigarette lighter adapter plugs.
A digital display tells you the current draw, or state of charge.  A built in plug lets you recharge it when you have 120v.  I actually recharge it from my 800w inverter while I'm driving and am using it during my "Phase 1" travel.
You can buy this model from Sears, here, or Amazon
If you manage to find a used one at a yard sale or pawn shop, you can buy replacement batteries to bring it back to NEW condition.


You can see my videos about this unit on YouTube

You can find all of my technical and minivan camper conversion DIYs, linked here.
Want to find great, out of the way campsites? When I'm not boondocking for free, I use my Passport America membership to save 50% on campgrounds.  It pays itself back after a couple nights and then cuts campground costs in HALF!


Don't get stuck buying a separate membership for each campground chain, join Passport America instead!  –Odyssey Camper
(Note: There are affiliate links in this article, but only on products I've actually used and can recommend.  It does NOT cost a penny more to buy from the links, but we will make a few cents to keep the site running)