There are two Honda Odyssey camper conversions in these pages.
My first minivan camper conversion was a 2004 Honda Odyssey.  I sold it to a friend and it later met an untimely death.  My second minivan conversion is a 2013 Honda Odyssey, which is my ongoing project.  In these pages, I refer to them as the Phase 1 (PH 1) and Phase 2 (PH 2) vans.  This is to keep them separate in the DIY posts, but also because the mission was different with each one.
Phase 1
A micro-camper build for someone who wants to get in their van and GO, ASAP, for as little money as possible and is more of a use case than an actual build. No permanent modifications are needed and you can convert your van back to soccer mom duties at any time.  Phase 1 is designed to get you on the road and seeing the sites as soon as possible.  We used a VERY affordable 2004 (second generation) Honda Odyssey for Phase 1.  Taking the shortest and least expensive route, it shows you how with a minimum of gear, you can use your minivan for camping.  It is also designed to allow you to change back to a kiddo transporter during the week.  If you want to go camping ASAP, but still have roots in your town, this might be the path for you.  Here's a walkthrough of how my van was set up for Phase 1:

I chose a 2004 Honda Odyssey for Phase 1 of my minivan camper conversion project because of:
Purchase Price
Reliability
Power
Fuel Mileage
Interior Dimensions
Gold with a brown interior was not my first choice, but this was the best-maintained Odyssey I found!  At least both colors do a fairly good job of hiding dirt and mud.  It had only one tiny surface-rust spot on a fender and no accidents.  Tires looked to have about 20,000 miles left.  A complete service history put the cherry on top and I paid $3700.  That should give you an idea of what you'll find with a little patience.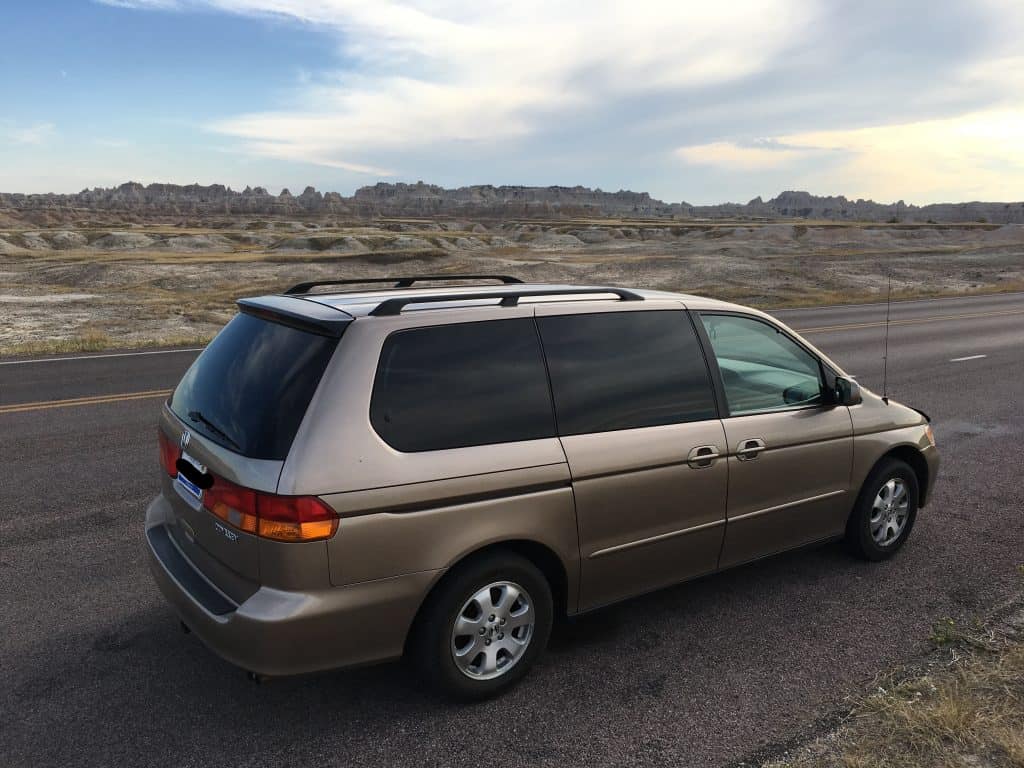 My first Odyssey microcamper was the mid-level EX model with a cloth interior.  I think cloth is better suited to camping than leather and the Honda fabric up to 2004 is very durable.  The EX has a power driver's seat, power side doors, a rear 12v outlet, and a fold-away center console.  The lower end LX skips those features.  Most of what you find out there will be EXs or EX-Ls (adds leather to the EX).  If you want factory Nav or a rear entertainment center, you have to spring for the EX-L.
All 2004 Odysseys have a 240 HP V6 and 5-speed transmission. I averaged about 22mpg in the city and 25 on the highway, so far.



Phase 2
A more detailed Honda Odyssey camper conversion for the long-term road-trekker or the VanDweller. For Phase 2, I upgraded to a 2013 (fourth generation) Honda Odyssey.  Here's where I set up an Odyssey for the nomadic van life with a bed, solar, house batteries, curtains, etc. for a semi-permanent RV-style van.  We'll also have how-to articles and lists of materials.  If you are heading out for more than a couple weeks, this build up is for you.
I chose a 2013 Honda Odyssey EX for Phase 2 of this minivan conversion project because the 2013 is two generations newer than my 2004 Odyssey and has updated features, including:
Side Curtain Airbags
Split 60/40 rear seat (now I can have a seat next to the bed!)
Rear backup camera (nice when backing up in the woods or near cliffs)
Cylinder Deactivation for better MPG–a LOT better, it turns out.
I've already started the modifications and you can join my mailing list to get reminders whenever I make an update.
Articles and posts not labeled as PH1 or PH2 are general information that is applicable to all minivan RVs.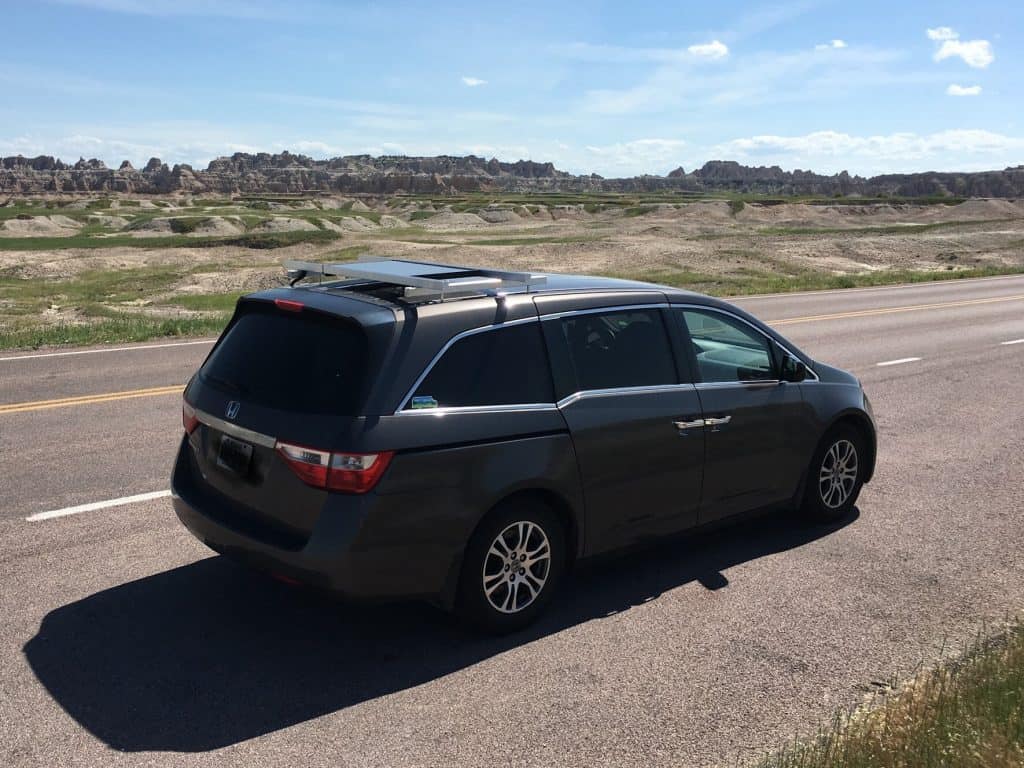 You can read more about why I chose a minivan for an RV and a HondaOdyssey conversion in particular, by following the links.
Want to find great, out of the way campsites? When I'm not boondocking for free, I use my Passport America membership to save 50% on campgrounds.  It pays itself back after a couple nights and then cuts campground costs in HALF!


Don't get stuck buying a separate membership for each campground chain, join Passport America instead!