I'm not new to minivans.  My first two minivans were used 90s Dodge Caravans and they came with all the issues promised by 90s build quality.  Between the two, I had 3 failed transmissions (and sold one as the transmission was failing again) numerous electrical problems, and horrible fuel mileage.
Then in 2003, my better half told me she wanted to buy a NEW minivan and a Honda at that.  We looked at the different trim levels and she decided on the most expensive one (go figure), an Odyssey EX-L with rear entertainment system.  Our oldest kid was 10 and our youngest was 5, so it made a certain amount of sense.  We had a CR-V previously and it had run flawlessly for 80,000 miles.  We leased it, but the purchase price was over $30,000 if I remember correctly.  I actually bought a Honda Accord at the same time, as a company vehicle because ugh, what guy wants to drive a minivan?



We took the usual family trips and Mom used it to ferry the kids around to school and activities.  I really only drove it on vacations or if we were all going somewhere together.  Over 60,000 plus miles, we had exactly one issue (EGR valve–covered under warranty).  My wife traded it in for a Pilot and when I was driving the van to the dealer, an epiphany hit me:  This van was comfortable, quiet, handled almost as well as my Accord, and 240 horsepower, it was pretty quick for a minivan.  Certainly, it turned, stopped, and accelerated, faster than my "domestic" minivans (Note: the Honda Odyssey, its engines, and its transmissions are all US or Canada build, depending on model year.  It has  one of the highest US domestic content levels of any vehicle sold in the US).  When we picked up our Pilot, I bought another company vehicle, a 2007 Odyssey.  I've since owned a 2010, 2013, and 2001, in addition to the 2004 you see in these pages.  Guess how many unscheduled repairs I've had to make.  Go ahead, I'll wait… Ready?  ZERO.  In a total of over 600,000 miles, I've had nothing break.  Ever.  The only time any of these vehicles visited a service bay was if there was a recall (airbags and a transmission issue in 2001-2003, that could have potentially affected our 03′, but didn't).  The Honda Odyssey gets progressively better as the years go on, both in reliability and in features.  They also hold their value extremely well, which can be an issue when you go looking for a used one.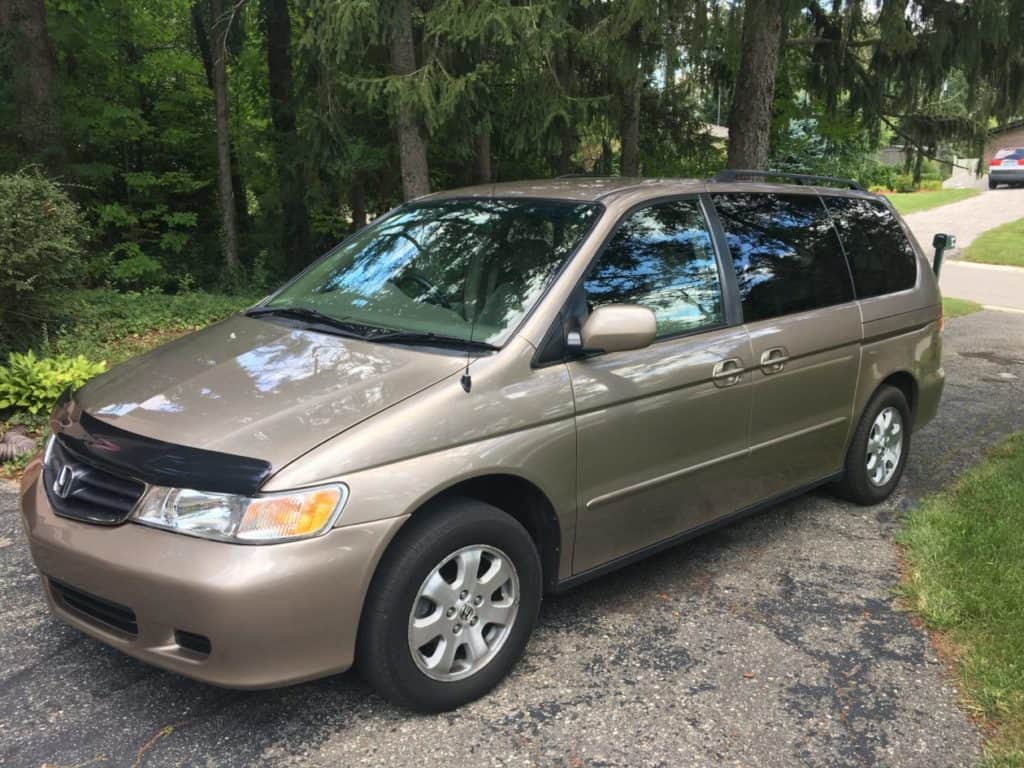 For this project, I decided that I might be modifying the vehicle in ways that could affect the resale value.  For this reason, I decided to go with something 10 years old or older, so I could get the majority of my money back when it comes time to sell.  A ten-year-old Honda Odyssey would mean a 2005-2010 (writing this in the summer of 17′).  I'd had two of those, but in my opinion, they are the "ugly years" of the Odyssey.  So I went a little bit older and bought a second generation (1999-2004).  In my opinion, they are better suited to this project for a couple of reasons.



First, the sliding doors are flatter on the inside and there is 65″ between them.  That means there is room for a queen size bed in the back…at least until you get behind the doors where it necks down to 48″ at the wheel wells.  But, look at your shoulders and hips.  Turns out that you neck down a bit too, so the extra width at the doors can give you some elbow room.  Second, I'm 6′ 5″ and the later generation Hondas have a bump out on the dashboard, where they put the gearshift.  This bump is right where my knee wants to be and even with a telescoping steering wheel, it doesn't fit right.  But the second generation Odyssey has a column mounted shift lever and no such bump out.  Note that when you go to the second generation Odyssey, you give up the side curtain airbags that came in later models.  On the other hand, if I decide to put cabinets in, I don't really want the airbags blowing my cabinets apart in an accident.  No good can come of that.  I guess I could add that it's also VERY easy to update the stereo in the 2nd gen Odyssey.  You just pull off the dash trim and unscrew a couple bolts.  You can also access the door panel speakers without removing the door trim.  We'll put an article about updating the Odyssey radio with Bluetooth and a weather band, here.



Of all the second generation Honda Odyssey model years (1999′-2004′), I suggest only looking at one year–2004.  That's because the earlier model years had some transmission issues that although hit and miss, can end up costing you a bit.  If you do decide to buy an earlier model year, it's imperative that you get documentation from the seller that shows the transmission gears were inspected by Honda, or the transmission was replaced under warranty, by Honda.  More about what to look for in buying a used Honda Odyssey can be found here.



I'm partial to the Honda Odyssey, but you may not share my affinity for them.  That's fine.  When it comes right down to it, all mini-vans have similar dimensions. So anything you read here can be applied to converting any of the following mini-vans into a camper or van dwelling:
Dodge Caravan
Honda Odyssey
Kia Sedona
Toyota Sienna
VW Routan (really a Dodge Caravan underneath)
Toyota Previa
So why did I pick a minivan for an RV in the first place?