Although I enjoy boondocking in my Honda Odyssey, sometimes it's worth it to spend a little money to stay at a special place.  The Grand Canyon Bright Angel Lodge is one such place.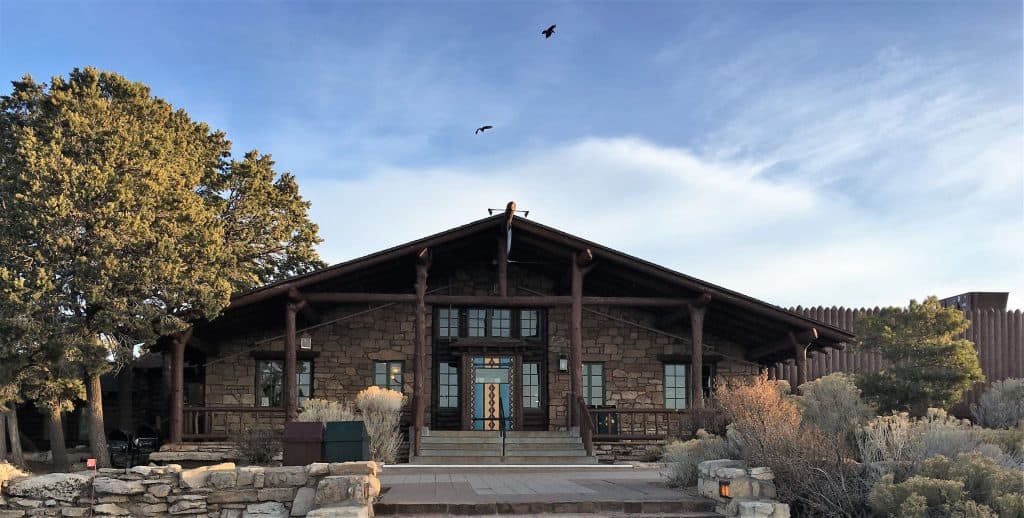 Designed by architect Mary E J Colter, the Bright Angel Lodge was built in 1935 and is listed on the national register of historic places.  Located literally FEET from the canyon rim, the lodge features a restaurant, bar, hotel-style rooms, and family cabins.  I was fortunate enough to be passing through the area in January (2018) when some smokin' deals can be had on rooms.  Due in part to the fact that it was the dead of winter and due partly to the 7000-foot altitude, nighttime temperatures were dipping into the 20s (F).  That made the promise of a warm room even more inviting.  Well, that and a much-needed shower after six days in the desert at the Rubber Tramp Rendevous.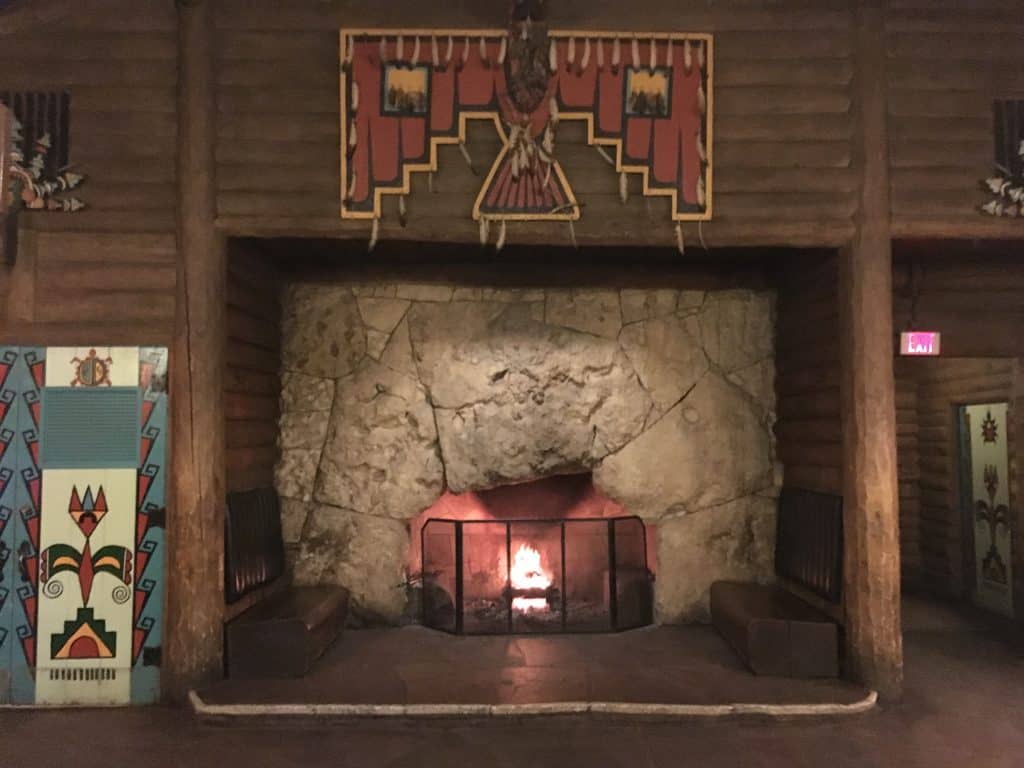 As I walked into the lodge, I was greeted by a large fireplace with a seating area where you can warm up or have a drink.  Turn to the right to find the bar and restaurant, or left for the restrooms and lodging area.  Check in was fast and the staff cheerful.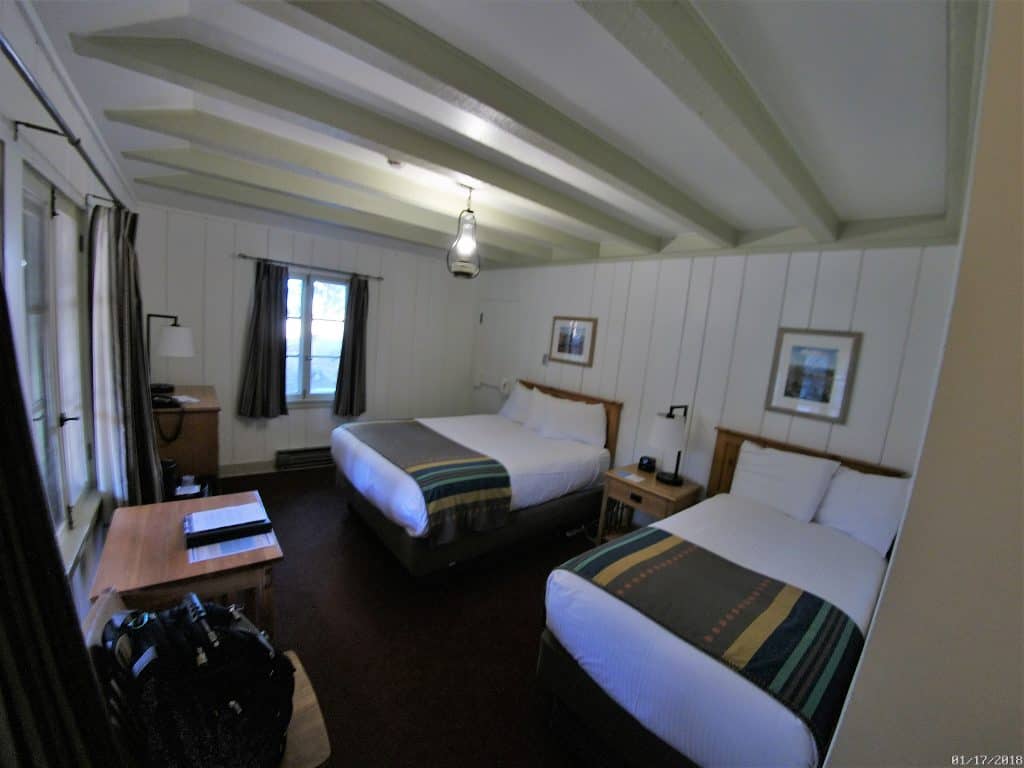 Because I arrived in the "slow" season, I was able to score a great room at the Bucky Lodge, right next to the lobby amenities, for an average of $70 a night!  These rooms were remodeled a few years ago and have a classic look that is a fitting tribute to the period designs you find throughout the grounds.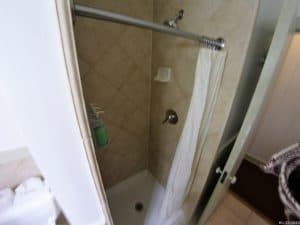 My room had a shower, but be aware that not all rooms do.  Some of these buildings were built over 80 years ago and have limited modern conveniences.  At check-in, I was given a choice of a room with a shower OR tub and a toilet.



Other rooms have no showers or tubs and share a toilet located off of the main hallway.  I THINK all rooms have at least a sink for washing up.  I found the rooms (and even the hall bathroom) to be incredibly clean and well kept.  The staff at the Bright Angel does a great job of taking care of the property and I did not find a single item out of place.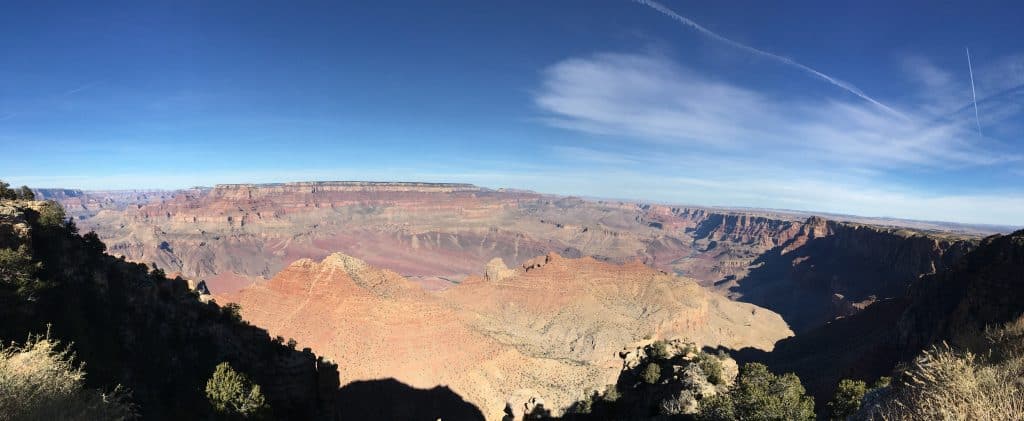 After showering off the first 3 days of dirt, I took a 20 sec walk over to the rim of the Grand Canyon and…WOW!  I've been looking at photos and film of the canyon my whole life, but nothing can prepare you for seeing it in person.  Incredible!  I sat there mesmerized as the sun set, which in January happens about 6 pm.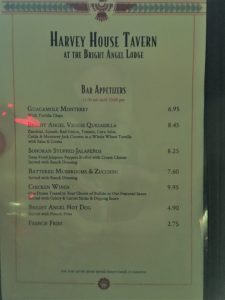 Figuring I'd have a beer and a snack before a late dinner, I went to the Harvey House Tavern, located in the main lodge building.  They have a limited pub menu, but the food is very good.  If you are old enough, you may know of the Harvey House lunchrooms from a certain movie.  If not, I'll let you do your own research and just say that the Bright Angel Lodge seems to do a nice tribute to the originals.
While drinking my beer I watched some GIANT baskets of Buffalo wings going by and decided to try some.  10 minutes later the bartender brought me a dozen of the best wings I've ever had.  Spicy and crispy, they came with a PILE of carrots and celery and by the time I finished I didn't need dinner.  The wings were $10, which is an incredible deal for 12 meaty wings at any restaurant, never mind in a tourist area.
While I didn't see Judy Garland inside, I found some quality entertainment.  Jimmy took requests and did some great guitar, banjo, and keyboard renditions of well-known tunes.
I don't think there were more than a couple people staying at the Bucky Lodge that night and so I slept soundly, waking up right before sunrise.  The Bright Angel Lodge is located on the Rim trail and a few hundred feet from the Bright Angel Trail, where you can get a mule to carry you to the bottom of the canyon.  Since I was there in January, there was ice on the trail and crampons were suggested.  I went down a half dozen switchbacks or so and although I didn't see any ice, I regretted that last beer from the night before.  You should definitely be in good shape if you plan on hiking this trail to the bottom because…ya' gotta' walk back up!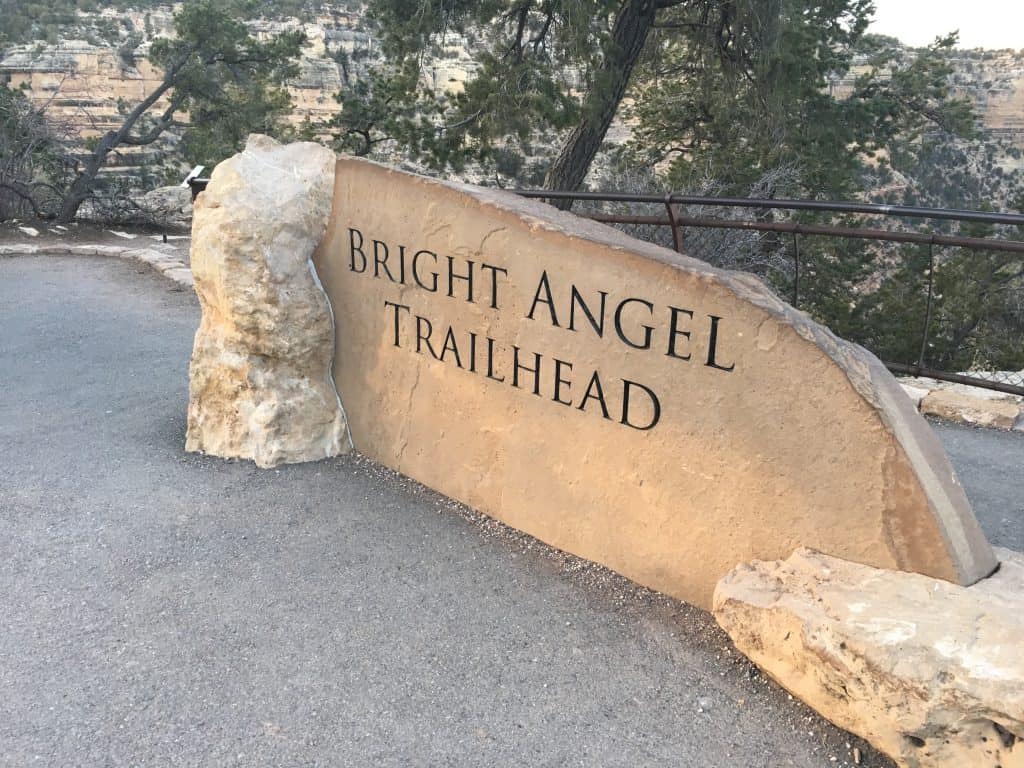 After the morning mini-hike, I went back to the lodge to grab a hearty breakfast before hiking the Rim Trail to the South Kaibab Trail.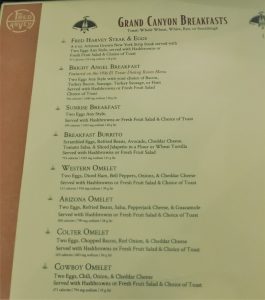 Again, I found a Harvey House inspired restaurant with great food and decent prices.  It's hard to beat those dozen wings for $10, but the Bright Angel Breakfast was very good and the portions decently sized.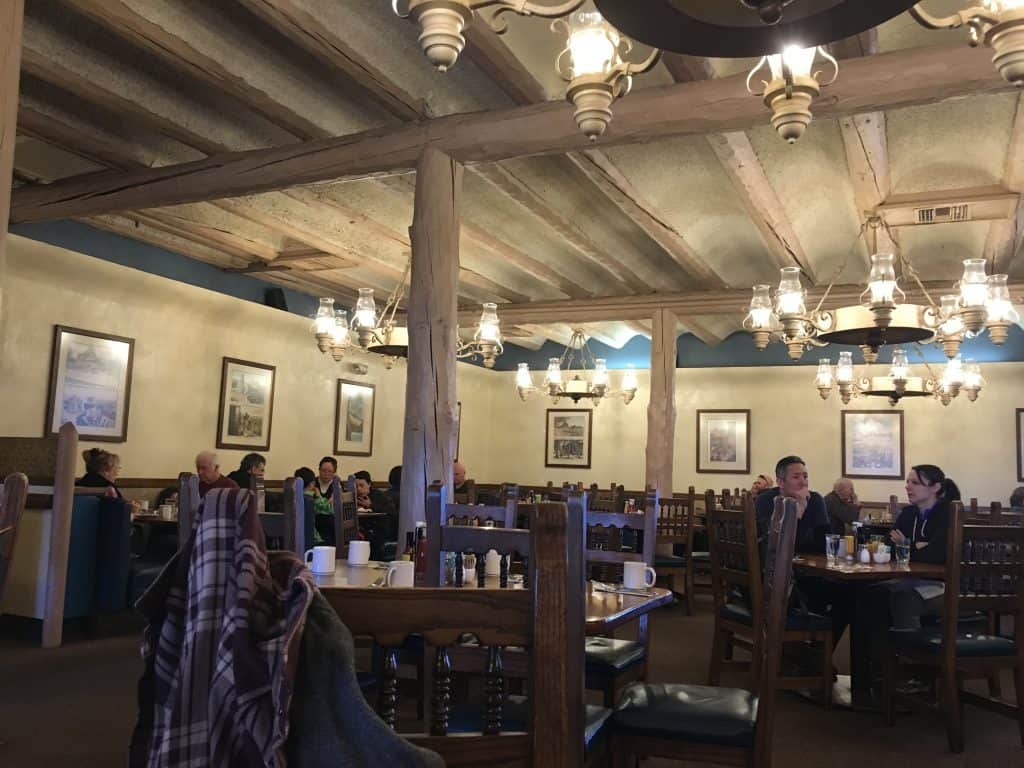 When I got out on the Rim trail I soon discovered that it isn't really a "trail" at all, but a paved path.  It is pretty long at 13 miles (one way) but there are plenty of spots to bail out along the way and catch a bus back if you need to.  It is also wheelchair accessible with bypasses of the steeper inclines, which is great for people with limited mobility.


I would say if you can walk, you can and should do at least part of the Rim Trail.  If you follow it out to the eastern terminus, it connects to the Kaibab trail which has some awesome views of the canyon but is not fully wheelchair accessible.   If you are quiet along the way, you'll likely see mule deer and maybe even an elk or two.
As far as the Grand Canyon itself goes, it's a must-see.  I'm not a photographer and can't properly do it justice in a short post.  But I also can't leave you without at least a couple shots and a video.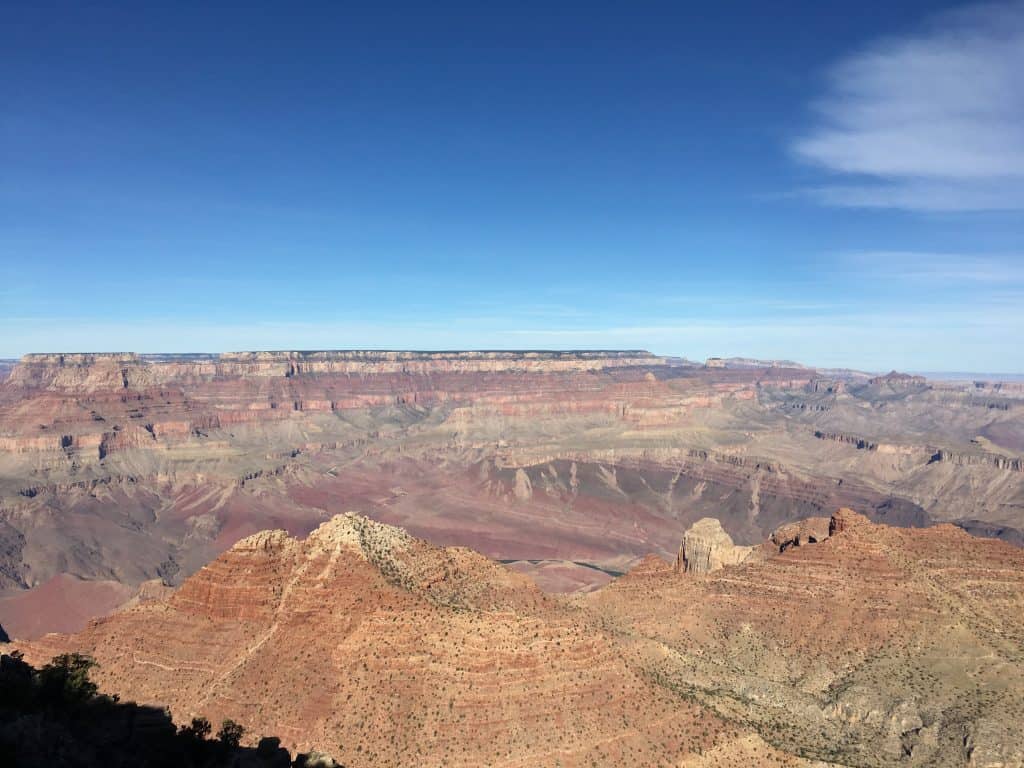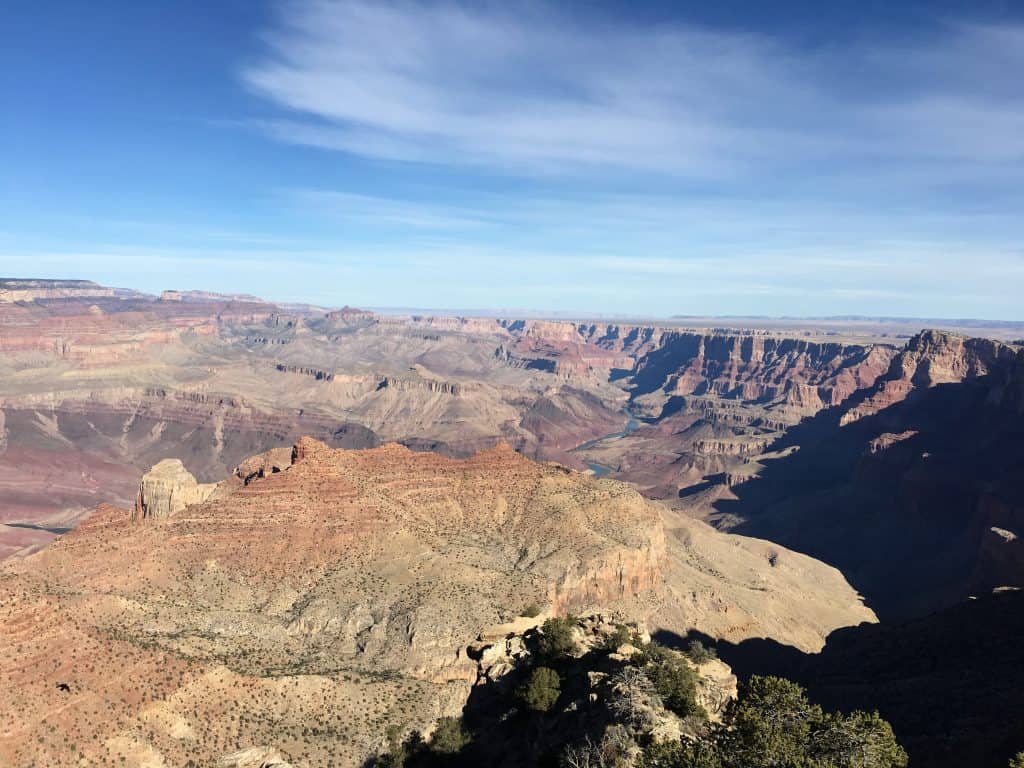 If you've ever thought of staying AT the Grand Canyon, I highly recommend the Bright Angel Lodge.  If you go in the winter time, there are hardly any crowds and you won't see many people on the trail.  Call ahead to make sure there isn't too much snow for the trails you want to hike because they DO get snow there.  I was fortunate and had 50F days and nights in the 20s.  The sun makes it feel warmer than that by day and without much wind, the nights really didn't seem that cold.
Note: Considering some parking lot boondocking at the Grand Canyon?  I sat outside one night and watched a young couple get into the back of their van in the parking lot directly in front of the lodge.  Overnight parking is not permitted unless you are staying at the lodge, but during slow times you might actually get away with it.  A short while later a security SUV went by, but they bypassed the van with the couple in it.  If you visit at a slow time and don't have your interior lights on, I doubt you'd get hassled.  Just be aware that you are directly in the path that the workers take back to quarters at the end of the night.  If you don't want to spring for the lodges, you'd probably be better off at one of the campground areas.
–Odyssey Camper
Want to find great, out of the way campsites? When I'm not boondocking for free, I use my Passport America membership to save 50% on campgrounds.  It pays itself back after a couple nights and then cuts campground costs in HALF!


Don't get stuck buying a separate membership for each campground chain, join Passport America instead!