If you are taking a trip to Mount Rushmore, may I suggest you stay at least one night at the Palmer Gulch Resort?  I've now stayed there on two occasions and found it to be an exceptional spot with amenities not found at your typical campground.  Situated behind Mount Rushmore, it makes a great base to visit other area attractions.
When I'm traveling, I usually try to stay on public lands or stealth camp.  It's cheap and I like being as close to nature as possible.  However, on my first trip to Mount Rushmore in the Autumn of 2017, I didn't know what to expect from the Black Hills area.  It was well after Labor Day and a lot of spots were closing for the season.  I initially made a reservation at this KOA, just so I knew I'd have a spot to shower and do laundry on my odyssey (pun intended).  An electrical hook up was also a plus since I was still shaking out the 04′ Odyssey Camper.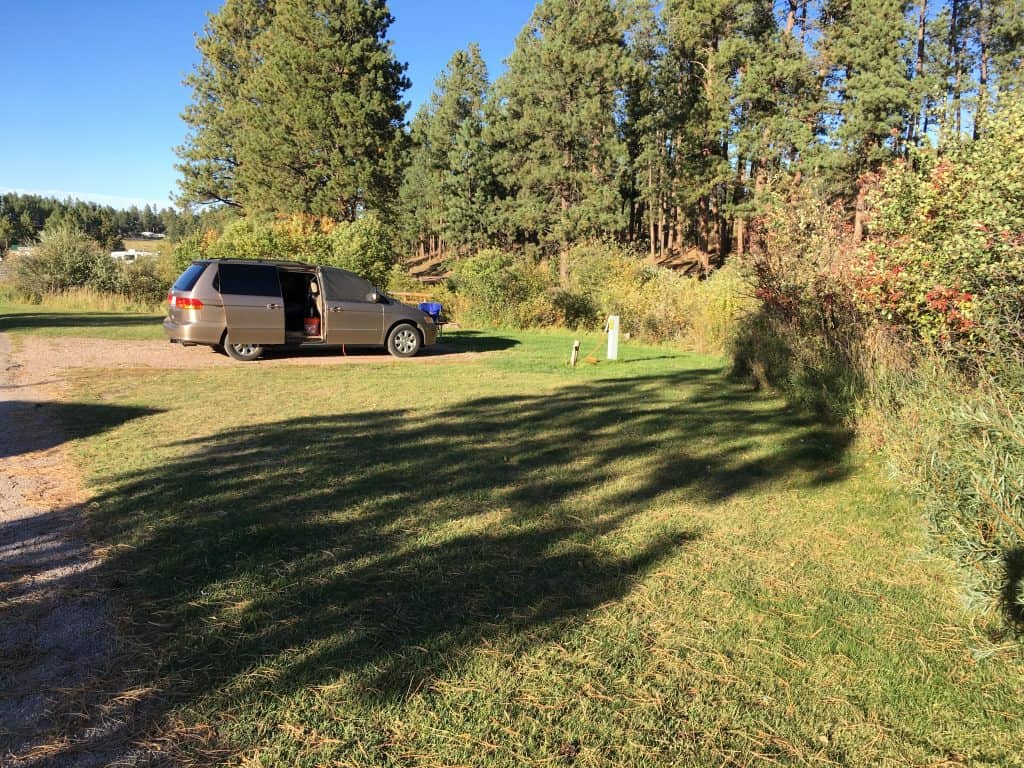 Odyssey Camper's stay in September 2017 (site 104).  My screens are attached and the extension cord is charging my DieHard battery pack.
I don't know about you, but when I think "resort," I'm usually not thinking about a KOA campground.  My KOA campground experiences have been, uh…mixed.  However, trust me when I say this is not your average KOA!  That's probably because Palmer Gulch was a stand-alone resort and dude ranch first, becoming a KOA property later on.
I was pleasantly surprised by what I found at this resort.  It really lives up to the name!  My site (104) was bordered on two sides by bushes and there were no other campsites on either side.  After check-in, I was escorted by a host in a golf cart to my exact spot.  The host even took the time to tell me about area attractions that I might have missed.  If you've ever driven around a campground looking for your spot, especially after dark, you'll appreciate this extra attention to detail.
Having just stayed at an underwhelming KOA near Badlands National Park, I didn't expect to find much when I went exploring, but I was amazed at what I found here.  There were multiple food options including a pizza joint and ice cream parlor, a steakhouse, a cafe and wine bar, and a well-stocked camp store.  I was hungry after a week of living on dehydrated soups and oatmeal and decided to grab dinner at the Peak Grill steakhouse.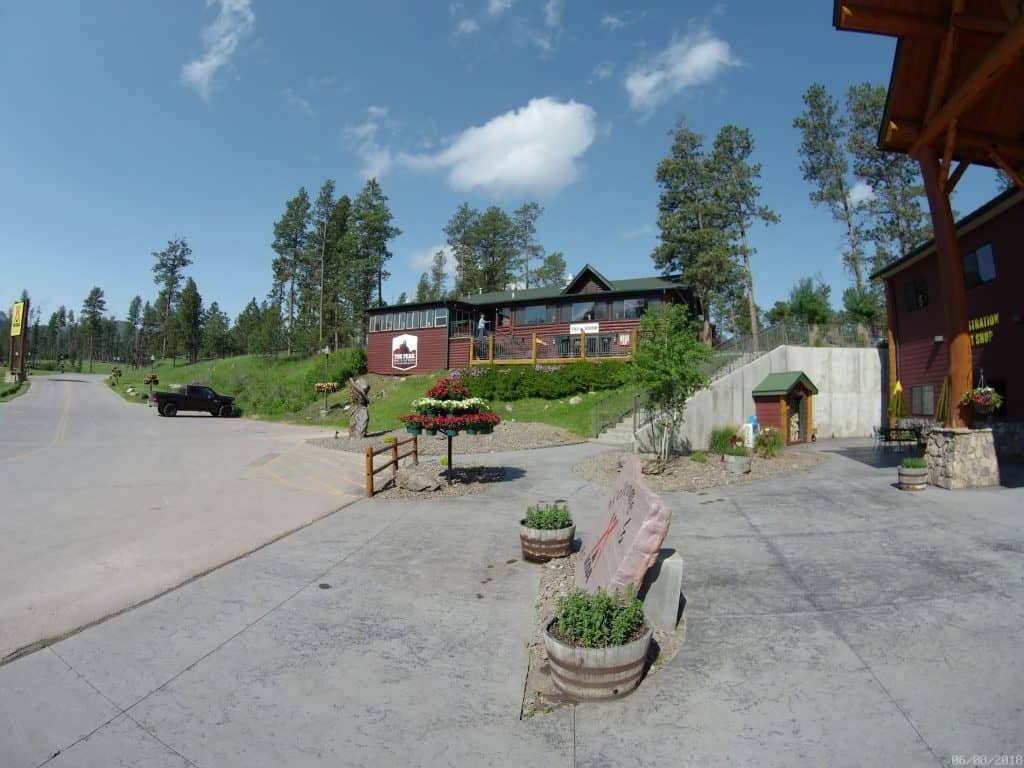 You may not think of a steakhouse at your campground as a necessary amenity, but I think it's nice to have a meal here and there that someone else cooks.  It prevents the onset of what I call "camping fatigue" when you are out for extended periods.  This is especially important if you are traveling with kids as you don't want one parent getting stuck cooking all the meals.  The atmosphere is very nice and it would be a great place for Mom and Dad to have a romantic vacation meal while the kids are off riding their bikes and getting pizza.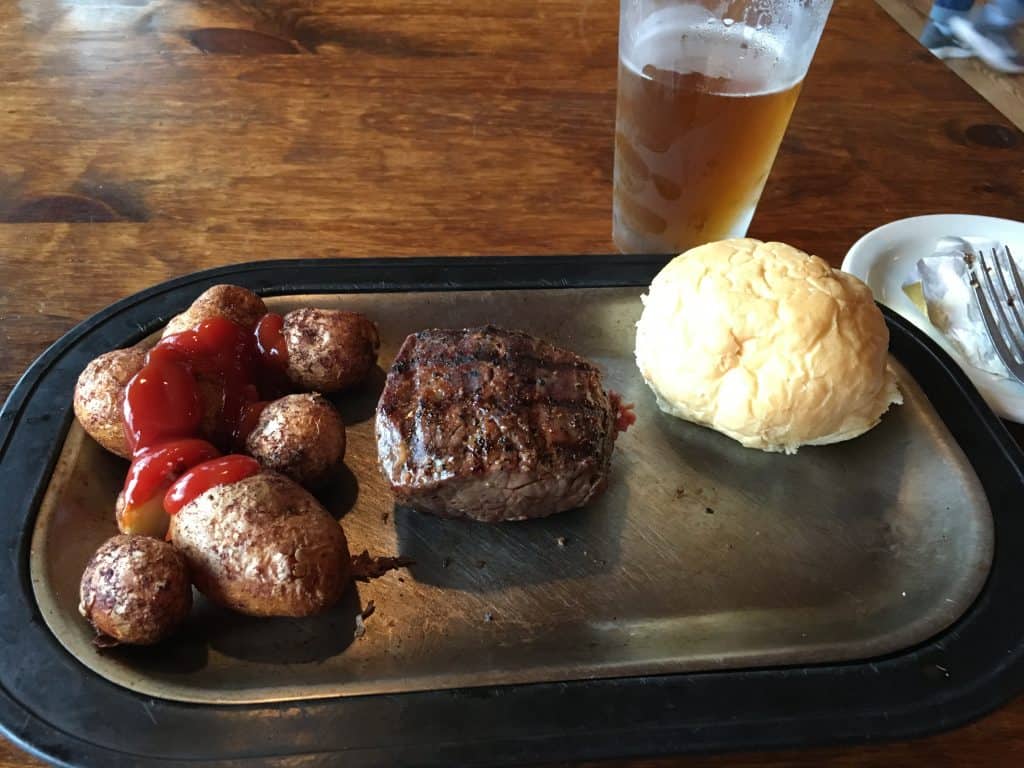 It's also nice to have these dining amenities at camp because there really isn't anything else this good, close by.  You can go to Keystone, which is the tourist town at the bottom of Mount Rushmore, or head to Custer.  Custer SD is a 30 min drive and if you come back to camp at night, it's a dark curvy road.  I do suggest you GO to Custer, but I'd do it for lunch or an early dinner.
For two good dining options in Custer, see my post on the Black Hills Burger and Bun Co. and my Purple Pie Place review.
If you are going to visit Mount Rushmore with your kids, be sure to read my post about hacking Mount Rushmore with kids.
A word about the staff at the Palmer Gulch Resort.  I found them to be friendly, professional, and hard-working.  When I returned for my second visit, I asked if they could give me the same site because it was not available online.  I explained that I wanted to have a photo of my new camper van in the same spot as the old one (I'm goofy that way).  The host made it happen!



Many of the staff you will encounter are college students (or college-aged) from abroad and so English may not be their native language.  Keep that in mind and kindly ask them to verify your food order as something might get lost in translation.  I had no major issues and consider it a fair trade-off to converse with someone from another part of the world, here in the middle of North America.  My two stays were in September of 2017 and June of 2018 and I noticed that a lot of the managers were the same, maintaining consistency.
If you just want to have a couple drinks and not worry about driving anywhere, the Palmer Gulch Resort has a fully stocked bar with local brewery beers, called the Tap Room, located downstairs from the Peak Grill.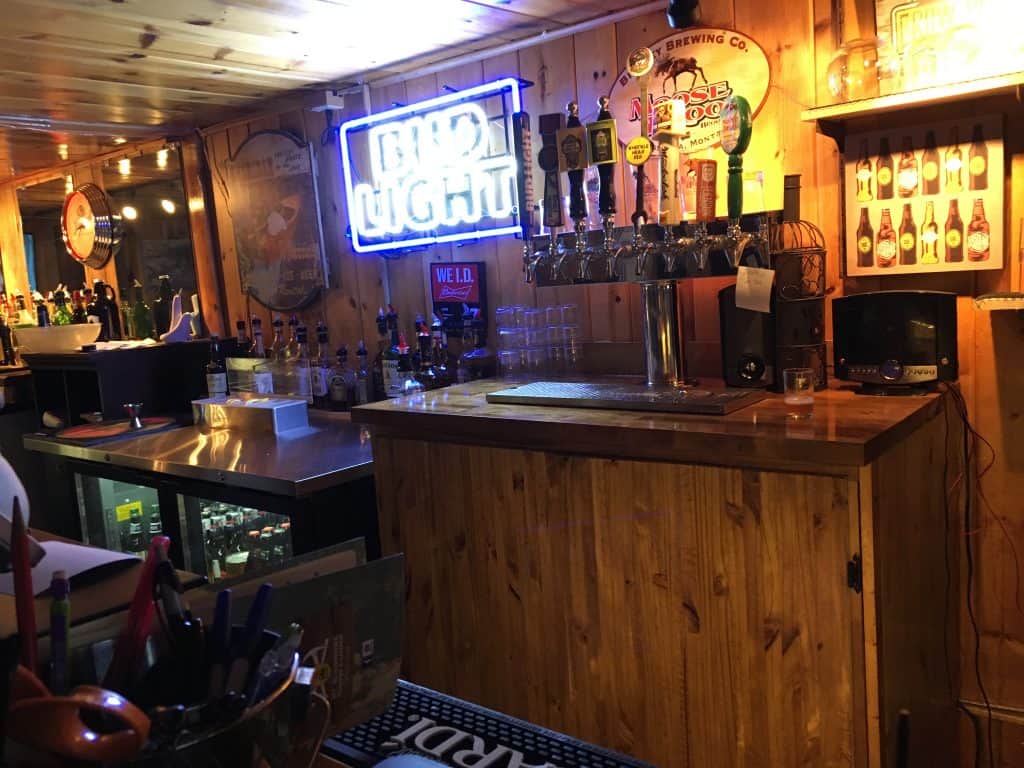 If you are looking for activities, the Palmer Gulch KOA Resort has more than a few, including:
Two Swimming Pools (one with an Adults Only swim every night)
Fishing
Horseback Riding
A Water Slide
Bike Rentals
Fire Pits
Live Music
Hay Wagon Rides
For the Chuck Wagon Dinner Show, you can ride out to the meadow by horseback, or take a covered wagon.  Food is served cowboy style and you can choose a locally grown steak, or if you have young picky eaters, hotdogs.  I didn't learn about the Chuck Wagon until I was packing up to leave or I would have chosen it.  I've gone horseback riding and cooked cowboy steaks and this looks pretty close to the experience, albeit without all the dust and sitting on the ground.
About the horseback riding.  This resort has a dude ranch-sized stable with well cared for horses.  You can schedule a session out on the surrounding trails and although I didn't have time to ride, I did hike some of the trails and they are as good as you'll find.  If you have daughters, you'll probably have to drag them away from the horses when it's time to go see the sights.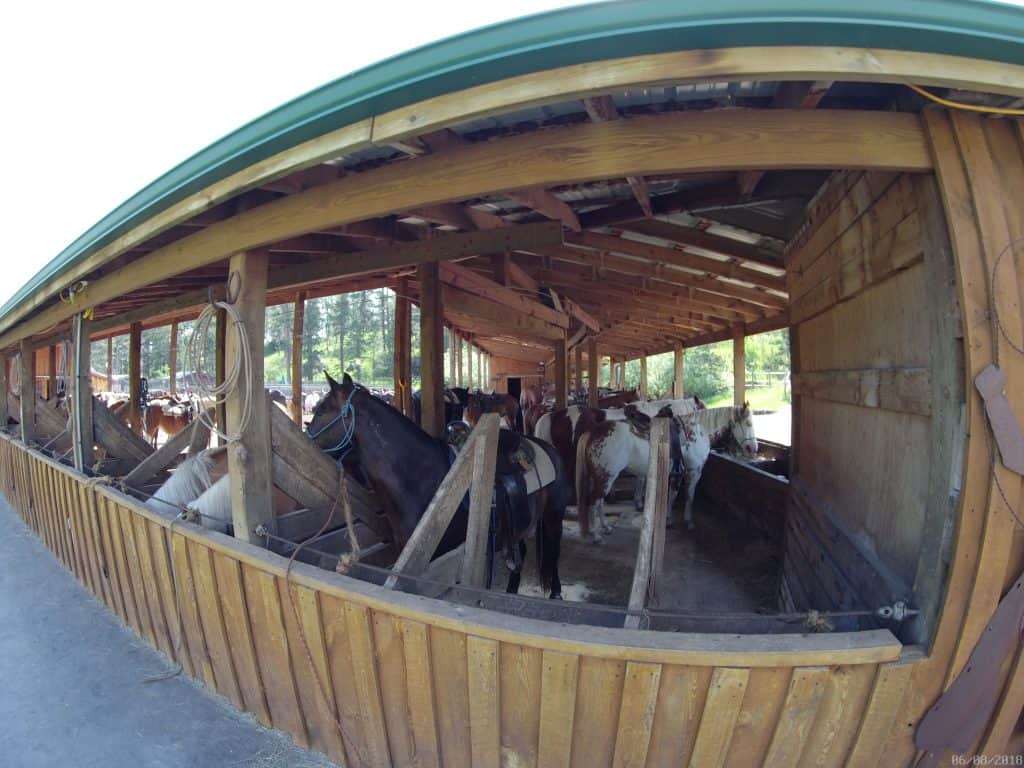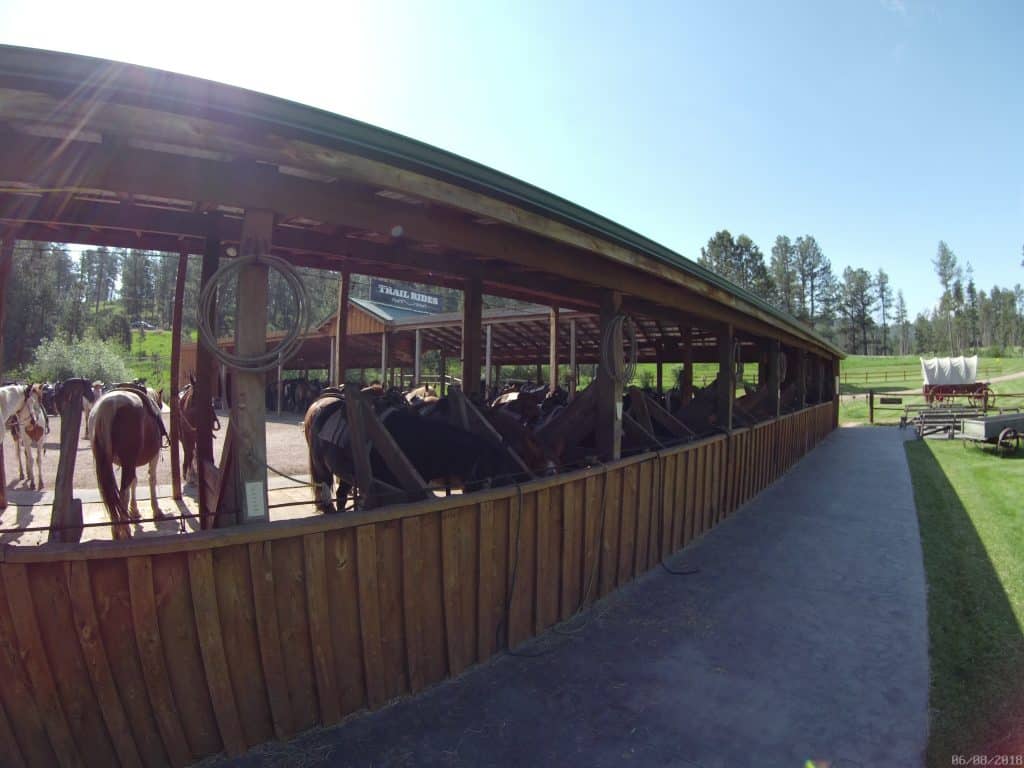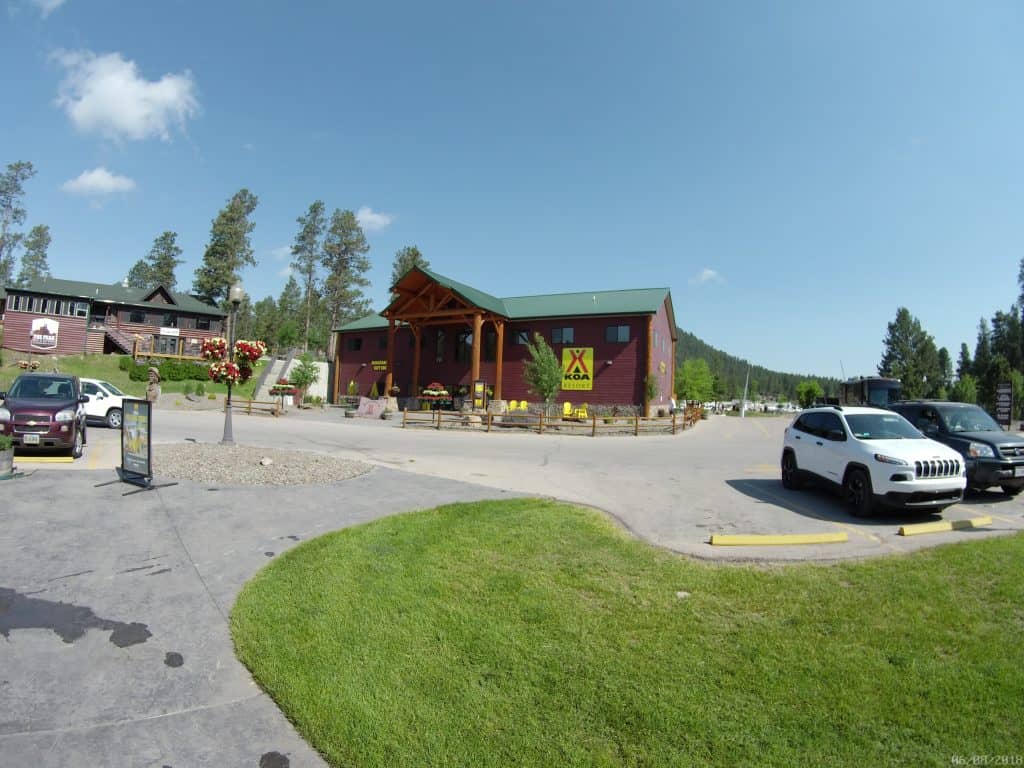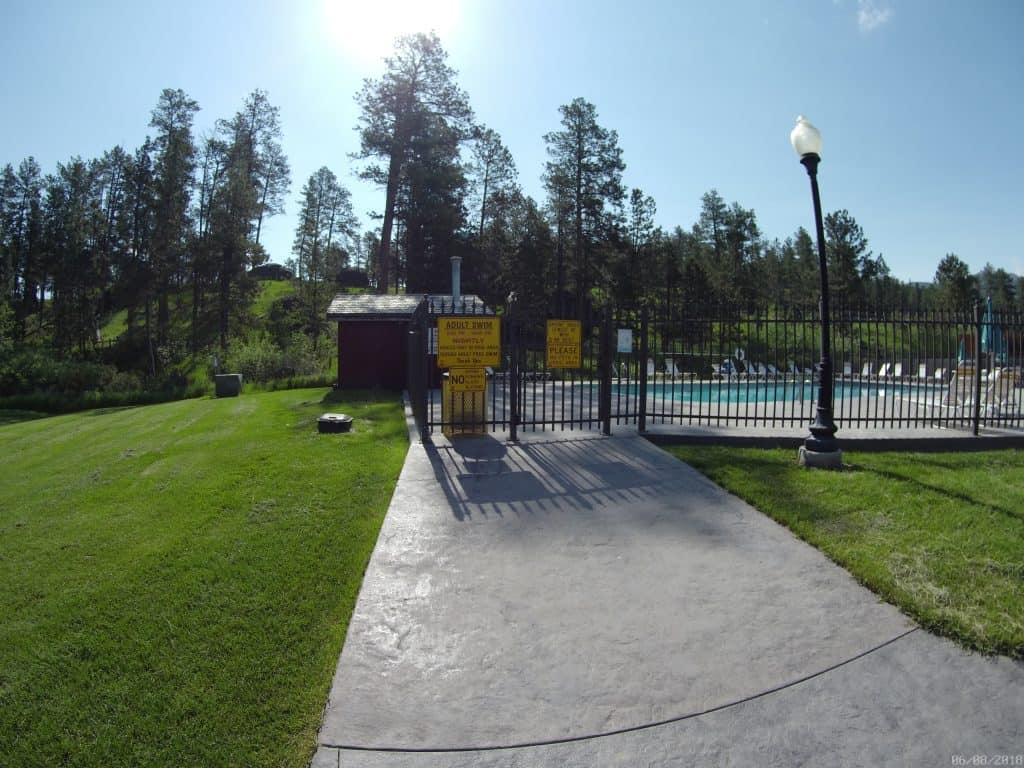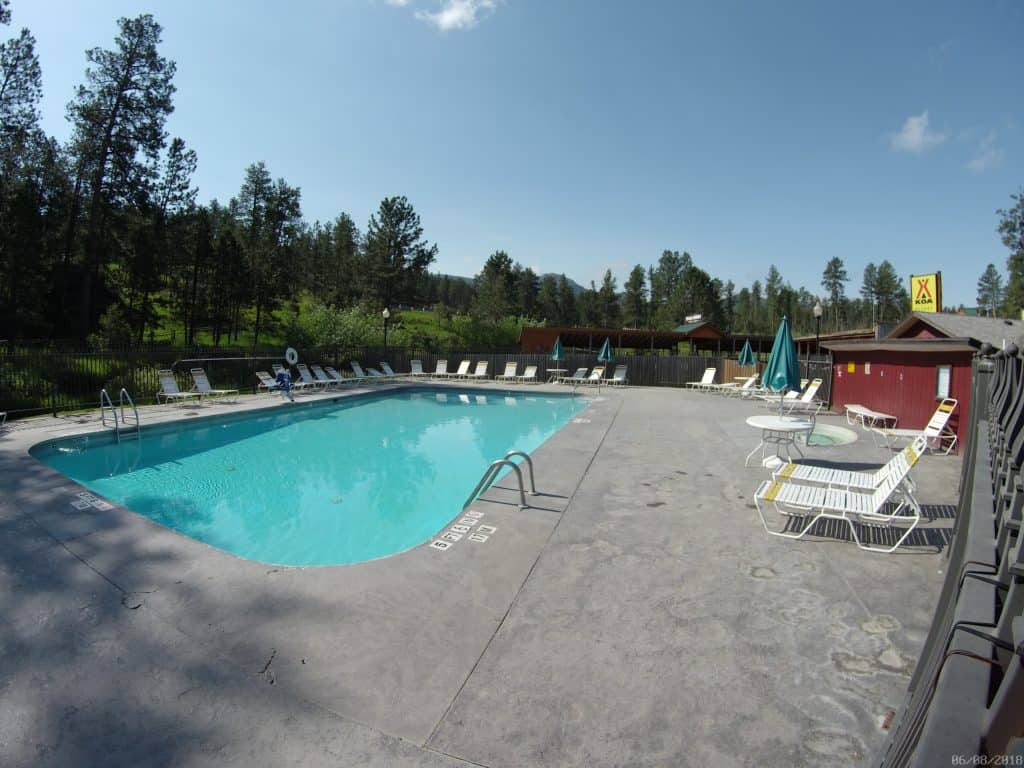 When I returned to Palmer Gulch with the 2013 Odyssey Camper, they let me stay at my favorite site! This time I had solar on the roof and didn't need the hookups.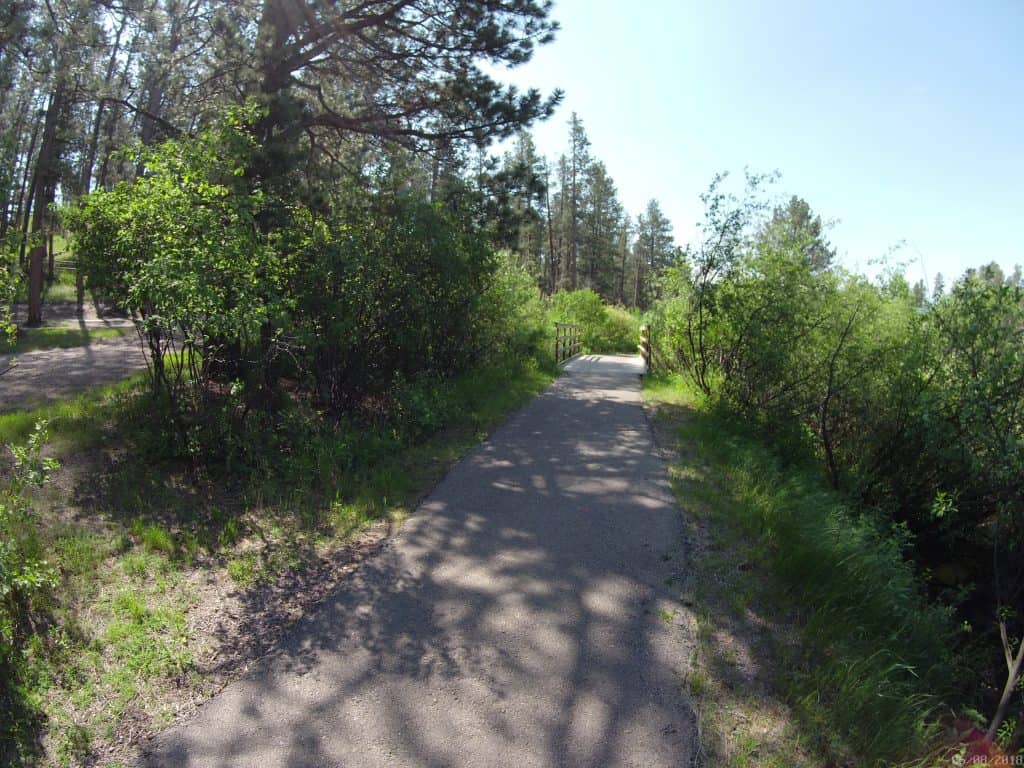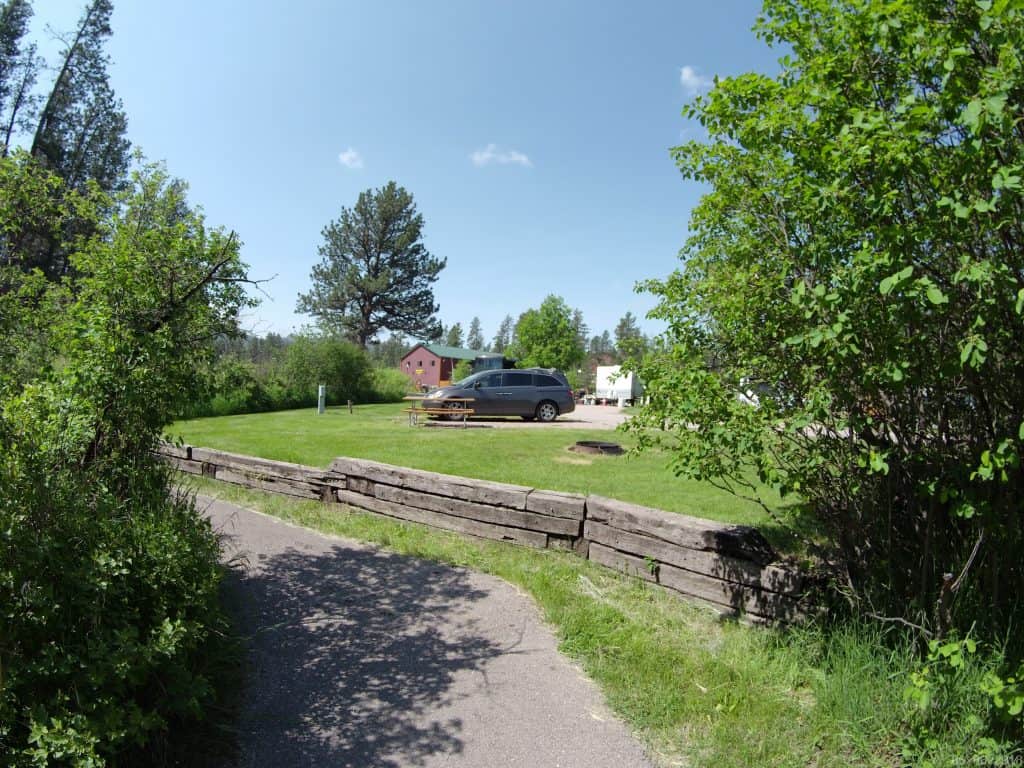 Breakfast options include the cafe and wine bar (not suggesting you have wine for breakfast, but I'm not going to talk you out of it either) called Grapes & Grinds or the Prospector's Tent.  If you need to fill the kids up before a day of hiking around the Mount Rushmore area, I strongly recommend this all-you-can-eat pancake breakfast.  It's a separate charge, but you won't find a better deal anywhere in the area!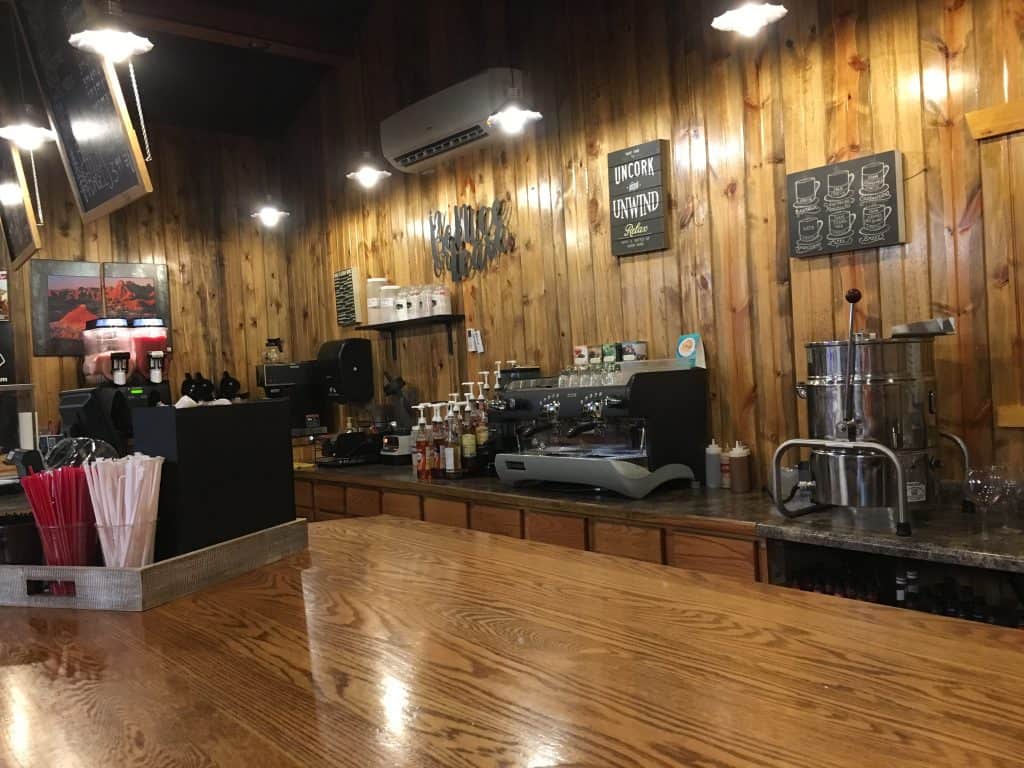 It was obvious to me that the amenities, the activities, and the general flow of this resort is based upon decades of experience pleasing customers.  The closest experience I can think of, regarding such attention to detail, is Disney World's Fort Wilderness campgrounds and I think Palmer Gulch KOA has them beat.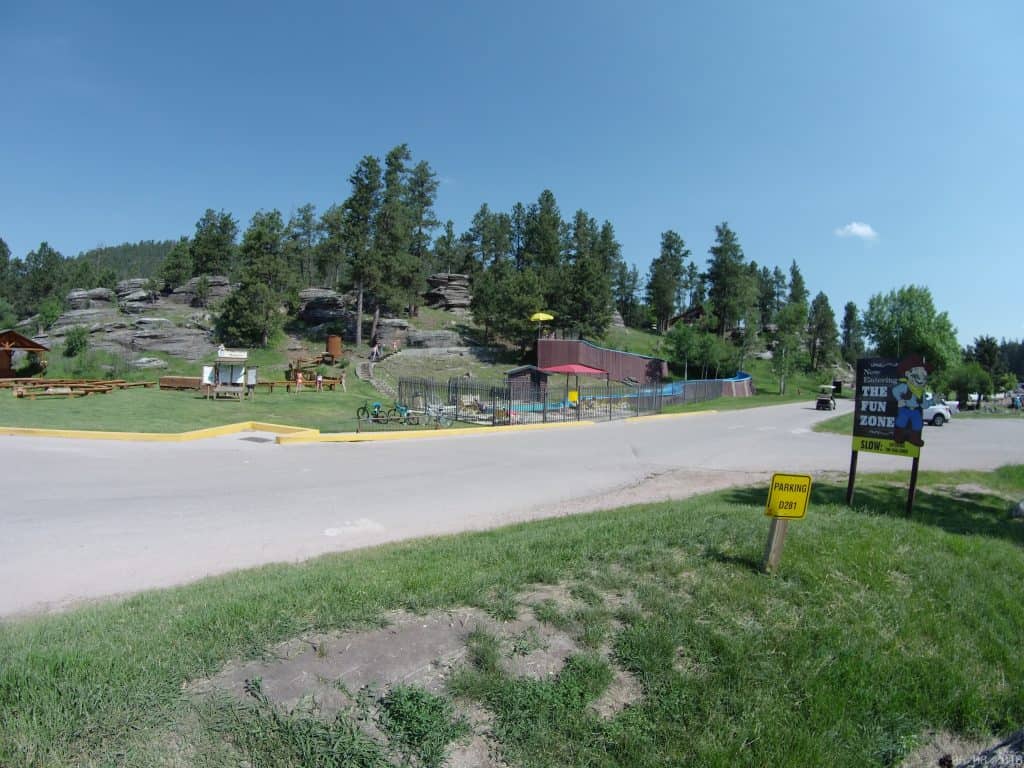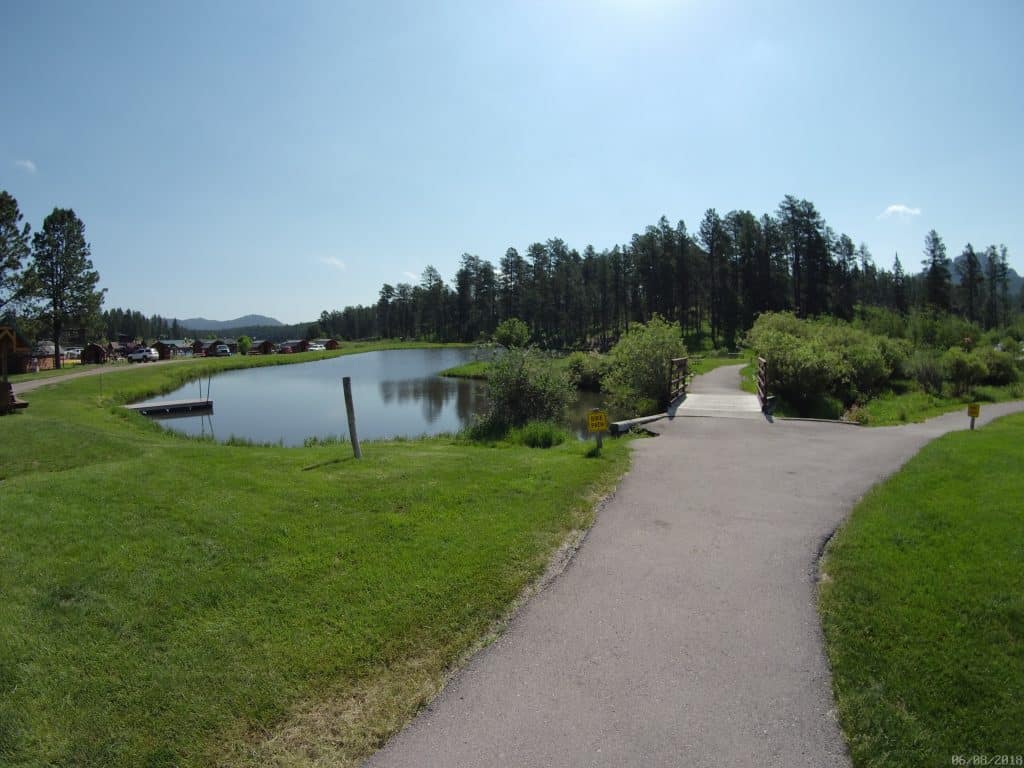 The sheer size of this place is amazing and you can check out the map, here: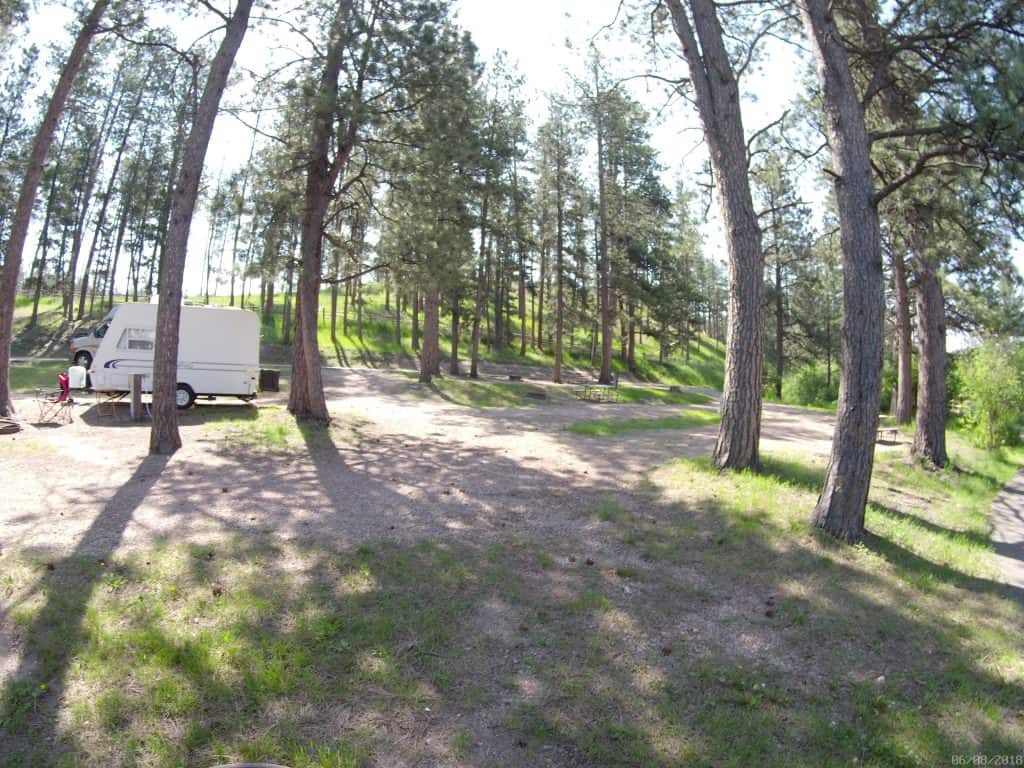 I've focused on the campsites at Palmer Gulch and there are plenty, for RVs or tents.  However, if you are traveling by car or Family Truckster, this KOA also has lodge cabins for families.  Knowing this, there is absolutely NO WAY I would stay at a Keystone motel when I could be here.
The Mount Rushmore Resort at Palmer Gulch KOA resort is the perfect place to spend a night as you pass through, or to stay for a week.  It turns an area with a few popular attractions into someplace that you'll want to spend your whole vacation.  The Black Hills are beautiful and there is SO much to do in the area.  Spend at least some of your time here while you explore your options in the area.  You won't be disappointed!
–Darren at Odyssey Camper