The best $20 I've ever spent.  I've been using my hiking poles for over a year now and swear by them.  Hiking poles (also called, Trekking poles) let you go farther and carry more than you could without them, regardless of your age or fitness level.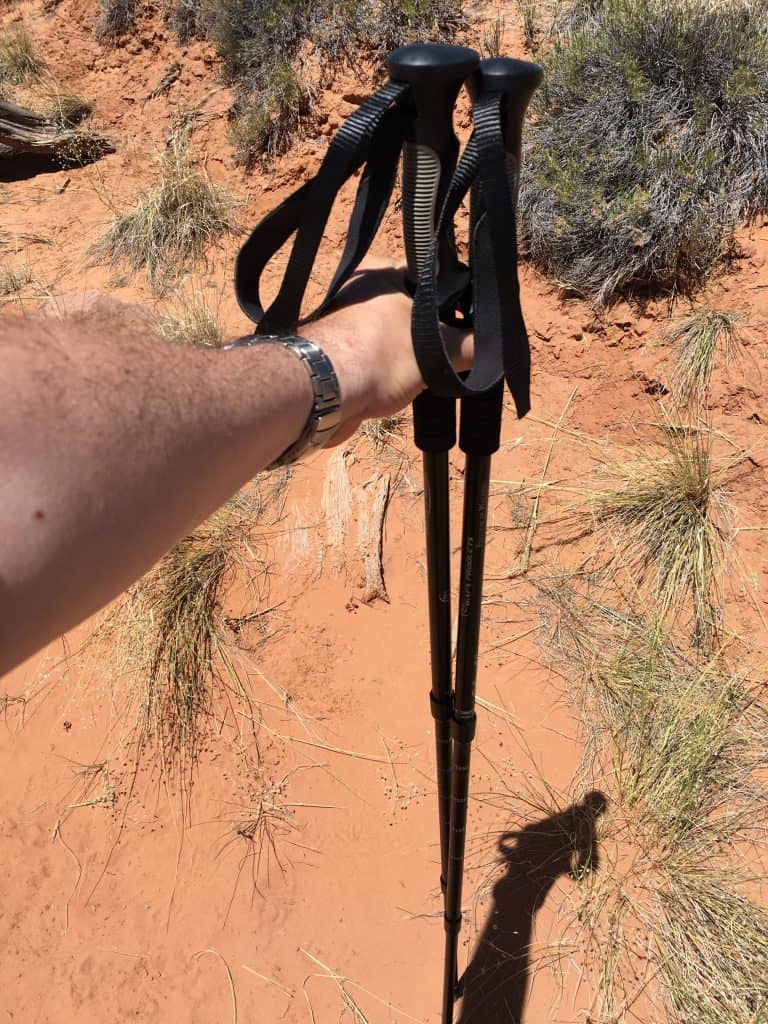 I have a friend who is an avid hardcore hiker.  Everywhere I go, he's already hiked it, faster, higher, and farther.  So I listened carefully when he mentioned hiking poles, something I'd never considered before.  It seemed to me that on the moderate trails that I normally hike, the only people that use them were, ahem, "older".  After reminding me that I too was "older" he pointed out some very good reasons that you might want to use hiking poles, regardless of your age.
They distribute the work to your arms and back, helping your leg muscles to go carry more weight.
They save your knees, especially on descents.  You only have so many "cycles" in your knee joints before it's time for a rebuild.  Trekking poles take the load off, especially when stepping off of small ledges and rocks.
Stability.  When crossing streams or on an uneven trail (and what trail is NOT uneven) they can be the difference between wiping out or staying upright.  Mine have saved me numerous times.
Endurance.  Not only do they save your leg muscles, but a good set of hiking poles improves your endurance.  I was able to keep up (barely) with my kids on a hike around Cypress Creek Trail in Austin.  Although it's not a difficult trail, the elevation changes had me panting.  My poles helped me to go much faster than I otherwise could have.
Even if you are young, trim, these are good reasons for using trekking poles.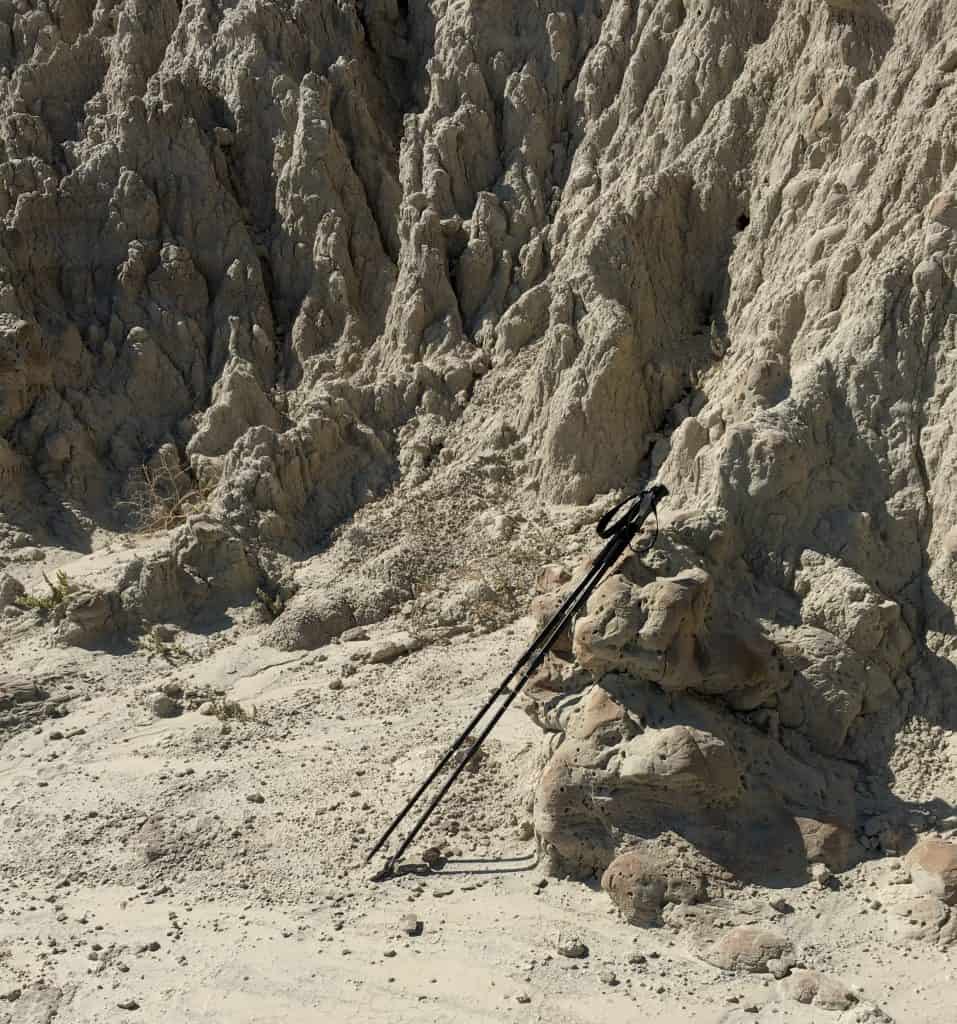 If you are hiking with a backpack, I think you'd be crazy to not use hiking poles.  One twist of an ankle will ruin your whole trip.  In my case, the 60 lb "pack" I'm carrying is distributed across my body, with much of it in front, over my belt.  In other words, I'm fat and my knees hate me for it.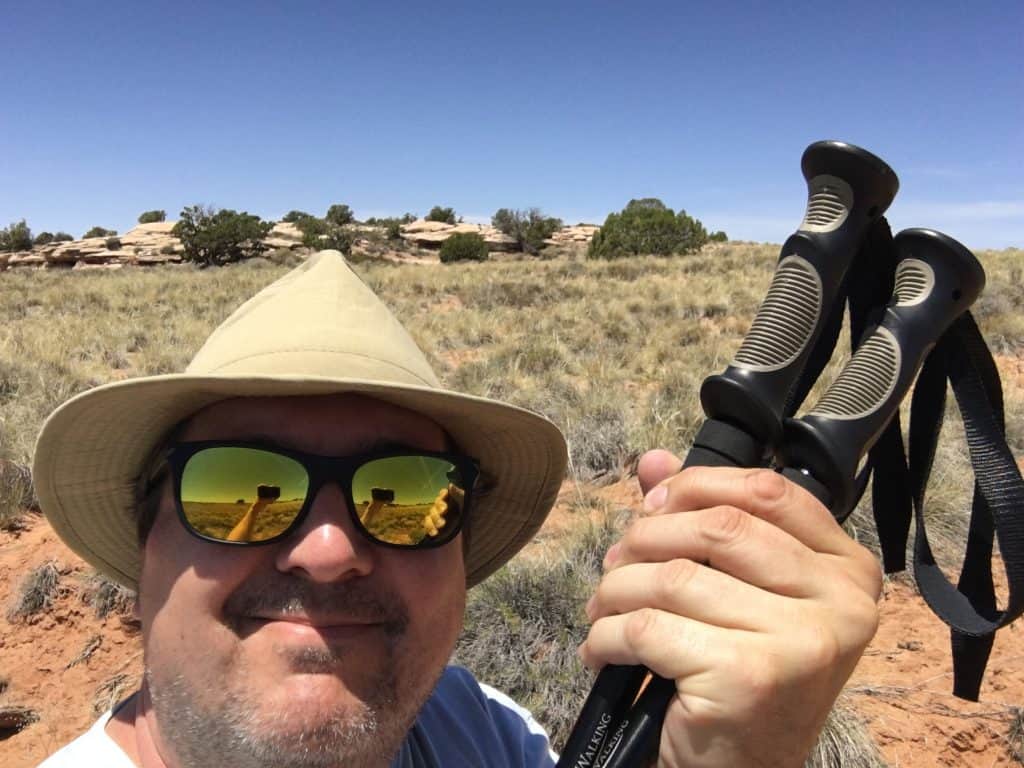 My knees used to get sore after any significant descent.  When you are old and heavier than your knees were designed for, the poles make a HUGE difference that was noticeable on my very first hike.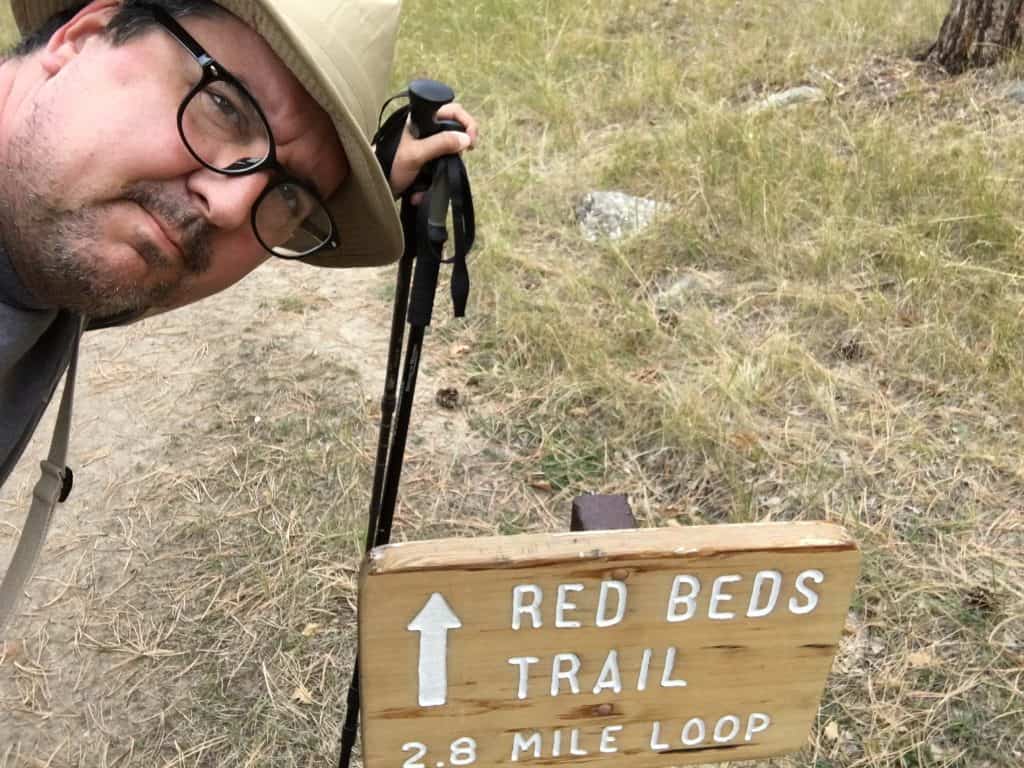 Devils Tower Wyoming. This trail has a moderate descent and gets very narrow at some points. The hiking poles saved my knees. After taking a wrong turn, I was glad to have them on the hike back up as well…I occasionally recommend items that I think make your travel lifestyle more comfortable or safer. However, I will never recommend something I haven't tested extensively.  In the case of these poles, I was suspicious that at this price point they would not hold up (especially considering my size).  I'm happy to say that this has not been the case and they turned out to be the best $20 I've ever spent.
The only complaint I have about these trekking poles is the wrist straps.  They are thin and cut into you a bit on long hikes.  But here's the thing, until you get into the $100 hiking poles, they ALL have thin straps.  It's not a deal-breaker, it's just that it would be nice to have something more comfortable.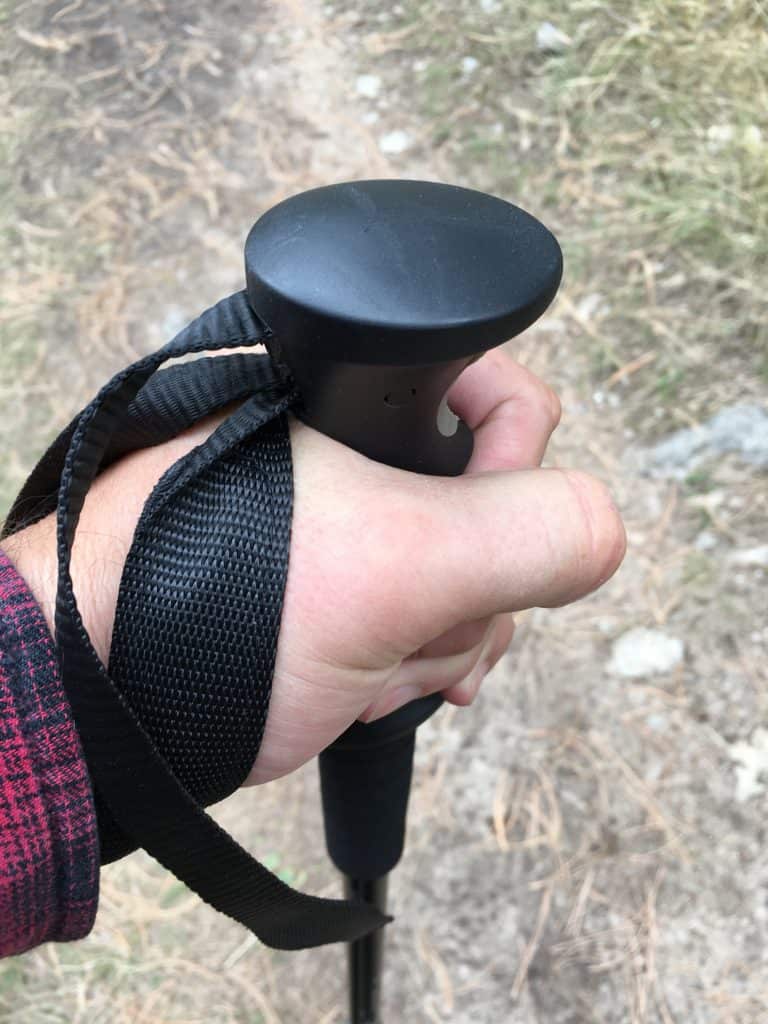 If you are an avid hiker, or already convinced that you want a set of hiking poles and want to get a top-of-the-line set, check out REI.  They carry some high-quality hiking poles for serious mountain climbing for a little over $100.  However, if you are just a casual hiker or want to see if they are right for you, I highly recommend the ones I have.  I've used them for over 100 miles of trails and I weigh around 250lbs, so they will likely work for you as well.  I paid $20 for mine and they've gone up a bit to $24, but I still think they represent a great value!


I bought the black ones, but if I do it again, I will get the silver ones.  The black get hot to the touch when you set them down in the sun.  Again, I don't recommend anything I haven't used extensively and I'm confident these will serve you well.  I've included all these photos so you can see that I've had them for a while.  In fact, if you go back to my old Phase 1 Odyssey video, you can see them in the back of the van at the 5:07 mark.
While you are there on YouTube, perform a search for "use trekking poles" or similar. There are a lot of good videos on the subject so I don't need to make one. Check out the different opinions and if you confused about how to use them, or think that you aren't coordinated enough, just pick up a set and it will fall into place. If you let them swing, you'll fall into the proper tempo in no time.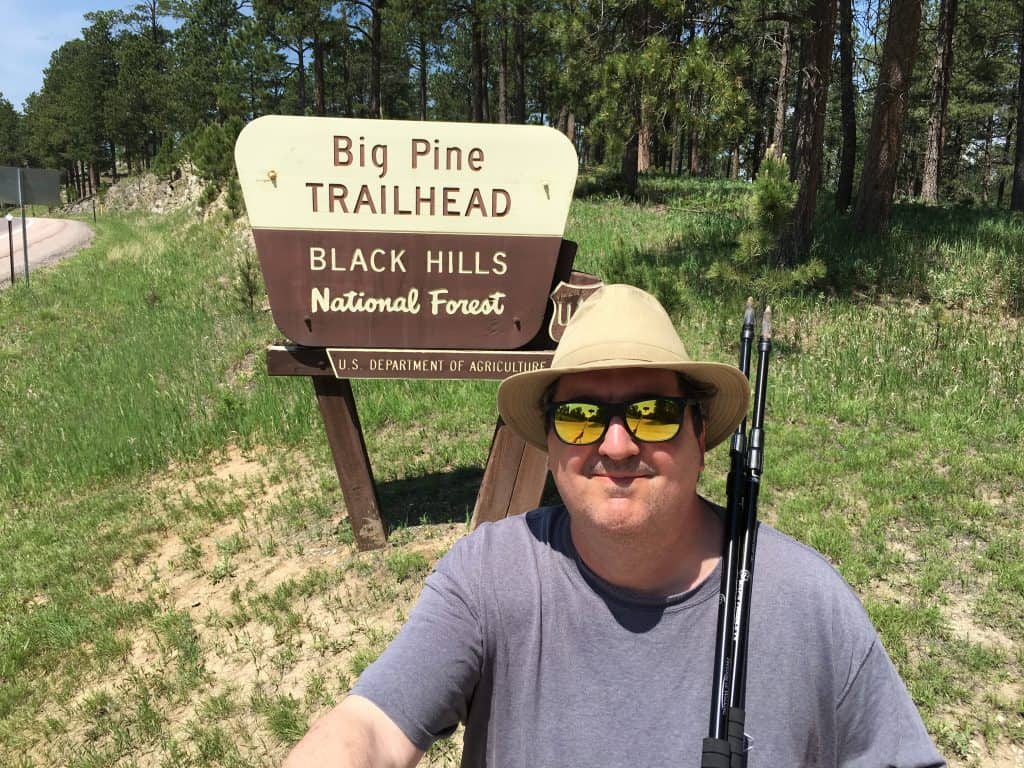 Notice that in the photo above, you can see metal points at the end of the poles?  The trekking poles come in with a plastic cap in place.  Remove the caps to expose a carbide tip that will dig into slipper rocks and hard ground.
When adjusting the poles, you'll want to be able to grab the grip and bend your arm 90 degrees with the tips of the poles touching the ground.  At this point, your fists will be pointing forward, (like when Drago knocks Rocky's fists down at the start of the fight). The poles are adjustable so make them a little longer when you go down a big hill, shorter when going up.
Crossing the badlands:
Hiking Pole Demo from Odyssey Camper on Vimeo.
I feel pretty strongly that everyone should have a set of these and I hope you'll try a pair on your next trip.
Thanks for reading!
–Darren at OdysseyCamper