When it comes to barbecue, everyone has a favorite regional style.  You might like wet style ribs from Memphis or a pulled pork sandwich with slaw, from North Carolina.  As a wise man named Dalton once said, "opinions vary."  But for me, nothing beats Central Texas style BBQ!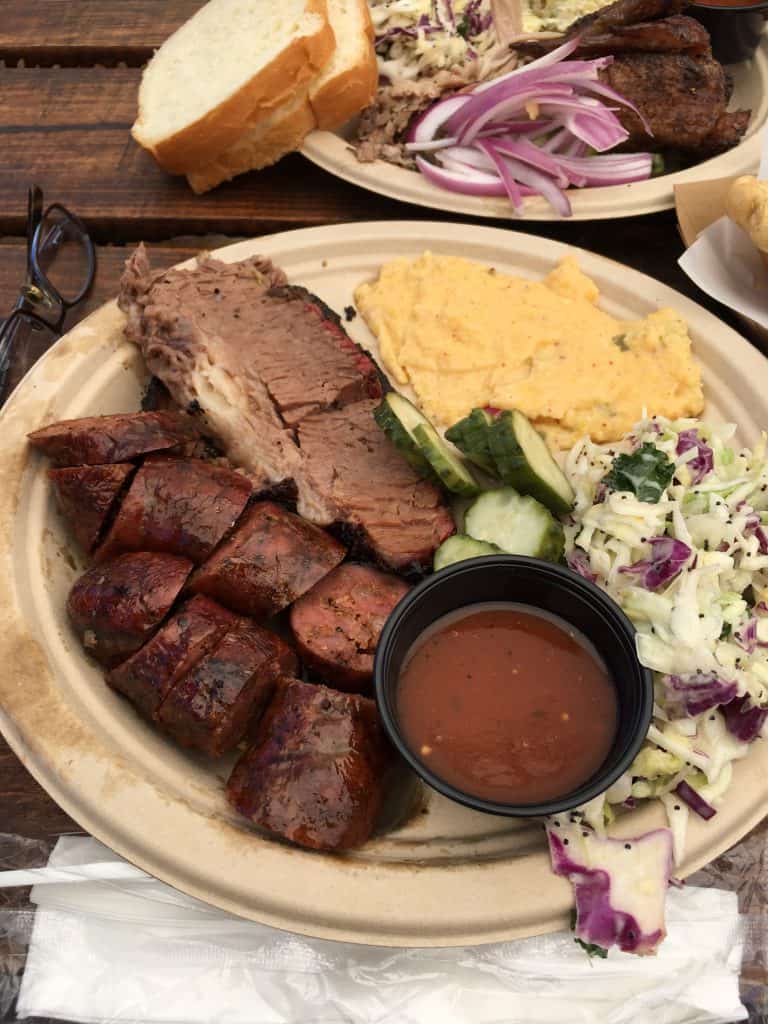 Texas is so big that they actually have four distinct styles of BBQ:
West Texas–Slow cooked indirectly over mesquite and sometimes using goat or mutton, in addition to beef.  Also called "cowboy style".
South Texas–Barbacoa where the head of the cow is slow roasted.
East Texas–Equal parts of pork and beef usually served chopped on a bun, saturated in sauce.  It has more in common with BBQ from the Mid and Deep South.
Central Texas–The meat is central here…and sliced.  This style was influenced by Czech immigrants and sausages can usually be found on the menu.  Usually cooked over oak or pecan.



Of course, styles and regions overlap, but I would call Austin BBQ "Central Texas" style in general.  Both of my boys live in Texas and we try to get some Austin BBQ every time we get together.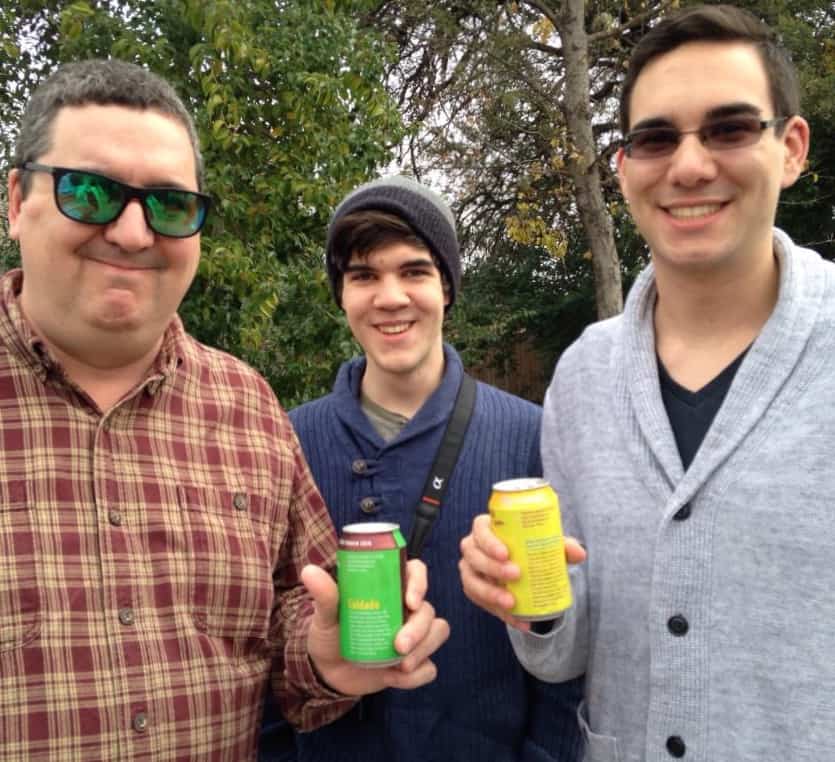 I probably eat way too much BBQ for an overweight 50-year-old man.  I don't eat like this all the time, but when I do, I try to ENJOY it!  So, before my left arm loses ALL feeling, let's get started with MY top five favorite Austin, TX barbecue picks!
#4    Rudy's Country Store and Bar-B-Q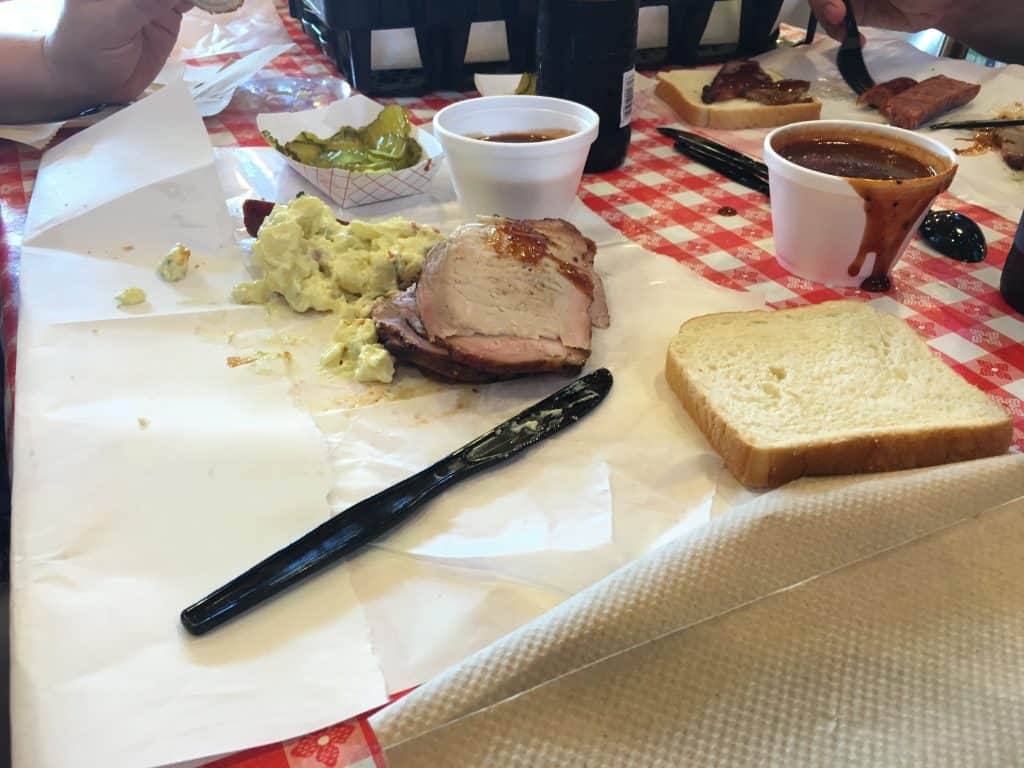 OK, before all the Texans stop reading right here, let me explain!  The first BBQ I had in the Austin area was from a gas station chain called Rudy's.  I'm from central Massachusetts (so what do I know about it) and thought it was the best damn barbeque I'd ever had.  I still think it's pretty good, but locals will say, "I guess it's OK, but there are so many places that are better."  True…but that doesn't mean it isn't still good!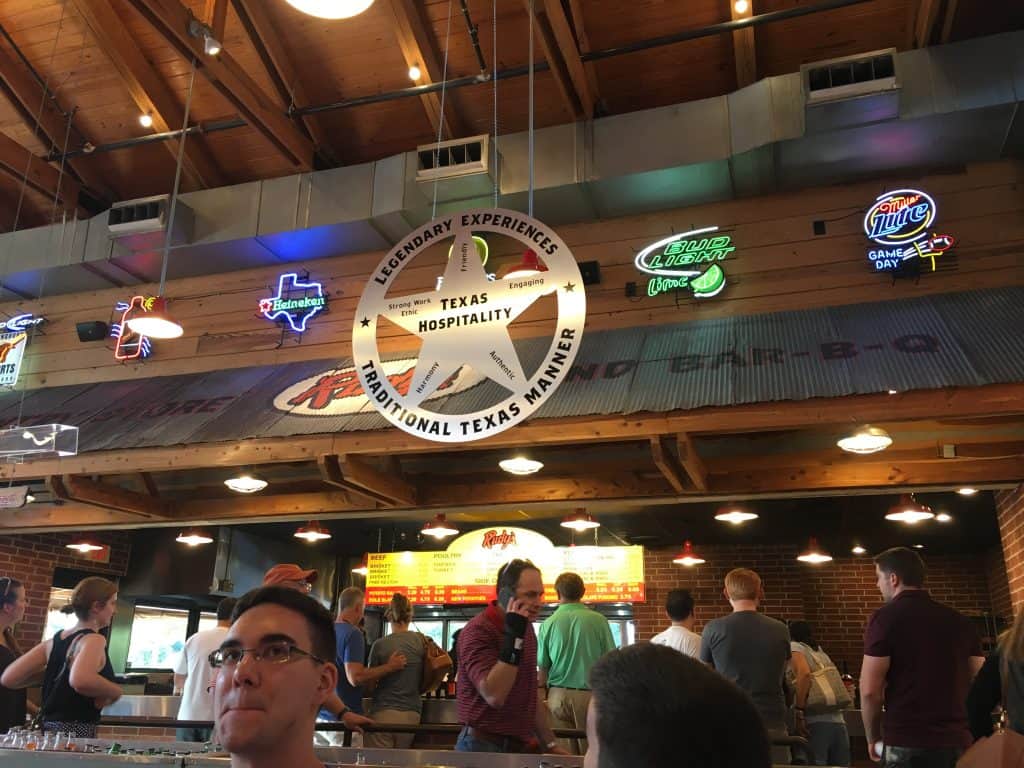 I'm including Rudy's here because it just might be the first BBQ restaurant you come across when driving toward the city. It's also fast for take-out or if you stop for lunch on the road.  Try the brisket and potato salad and don't pee in the sink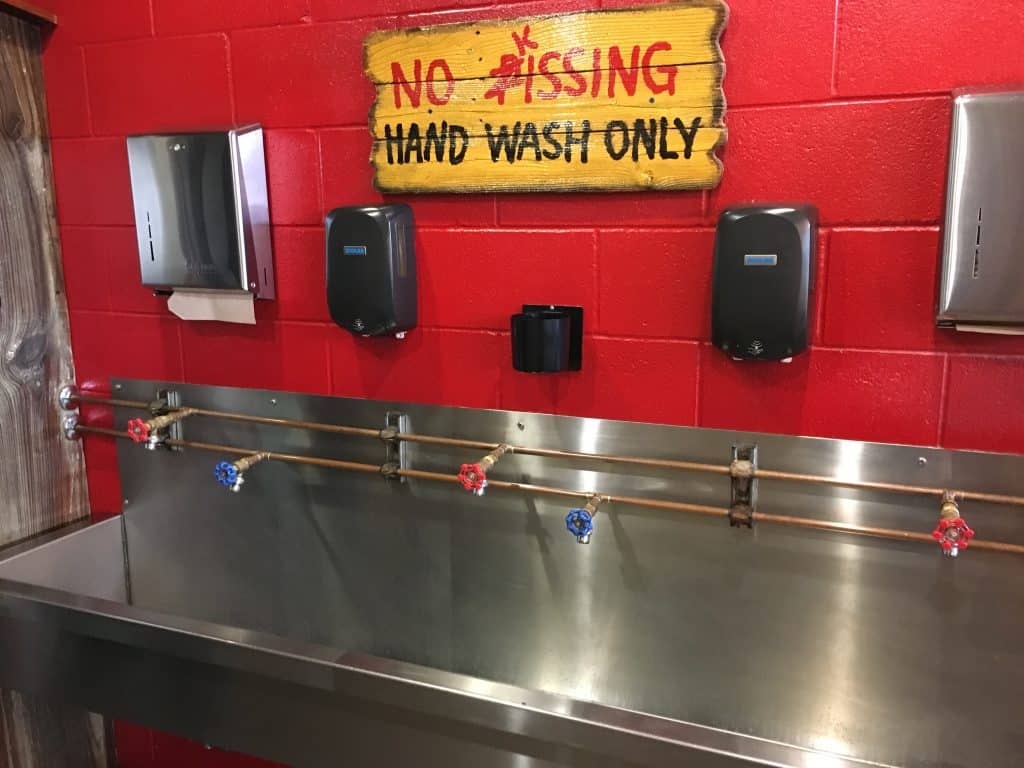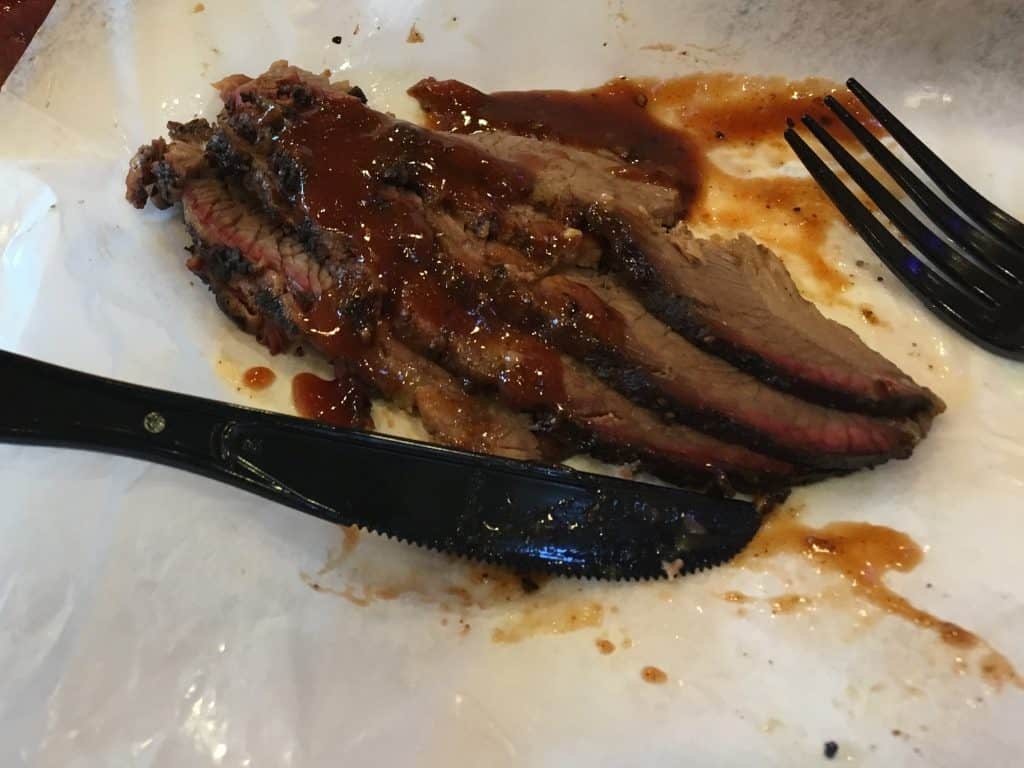 My Favorite Menu Item: The lean brisket, covered with Rudy's BBQ sauce
#3    Slab BBQ & Beer
Slow, Low, & Bangin', Slab makes some killer sandwiches with BBQ meat at the core of each.  Calling themselves "The Dopest Barbecue Restaurant in Austin, TX", you are sure to hear some old-school rap piped in while you inhale massive quantities of slow-cooked meat.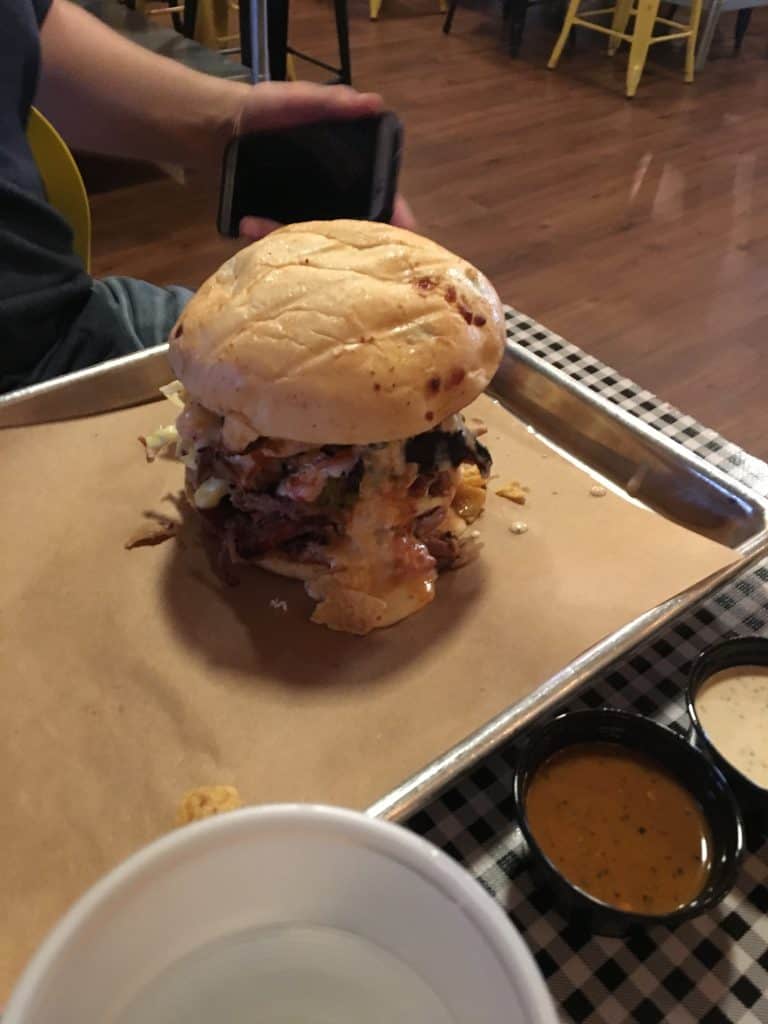 Sandwiches with names like "Notorious P.I.G." and "Texas O.G." add to the vibe, while making me feel conspicuously white. Not really, it's a fun place with a bar and if you don't like the rap and R&B music, you WILL like the food.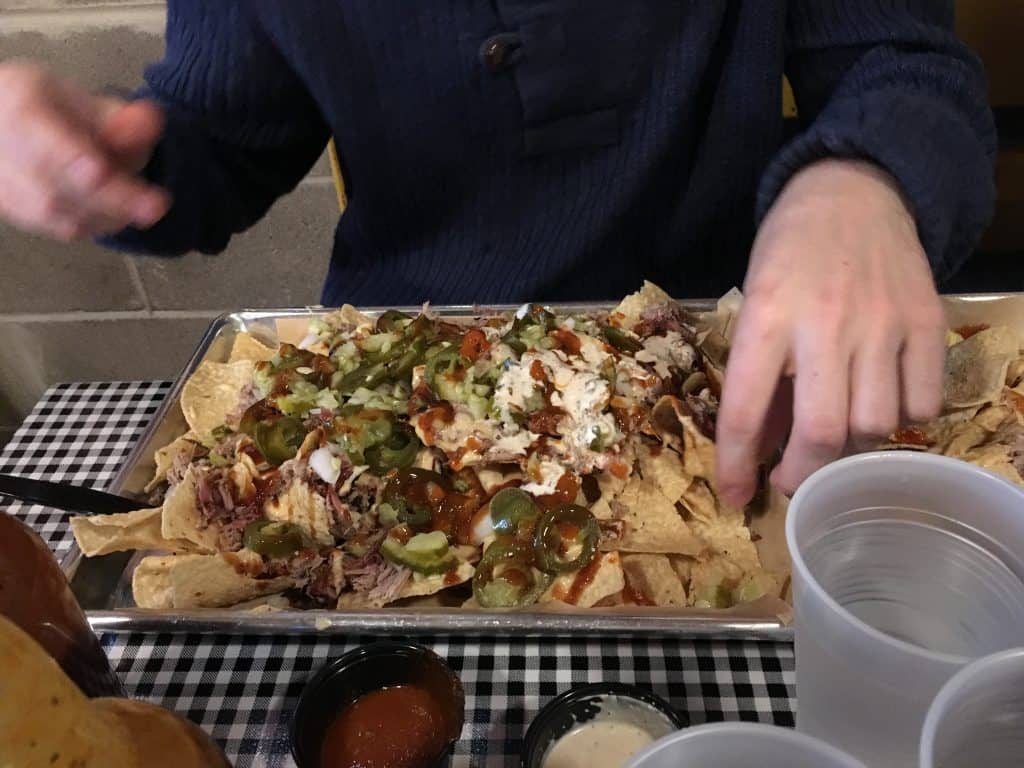 My youngest son volunteers at the Austin Humane Society and this is a favorite haunt of his coworkers.  It must drive the dogs nuts when they go back to work smelling like meat!  In fact, if you are moving to Austin and want a dog, consider adopting from this no-kill shelter.  You'll be sure to make fast friends with your new fur buddy if you go to Slab BBQ first!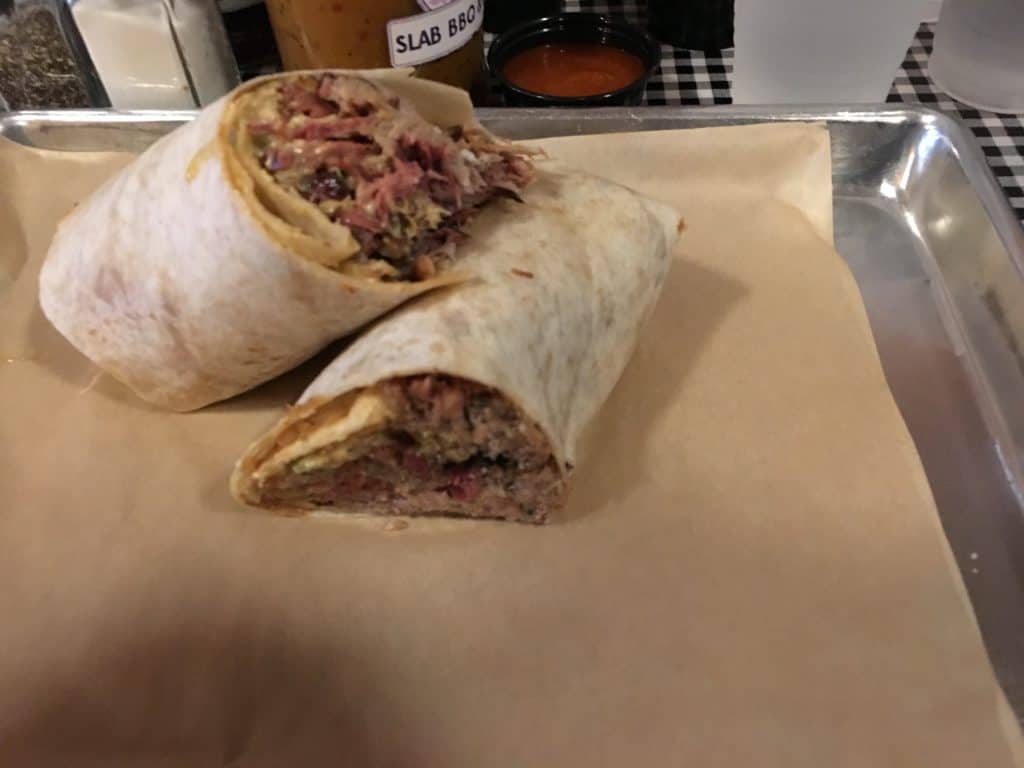 I can't remember what this was. No, the picture is not blurry, you're having a stroke.
Slab BBQ has what I consider to be VERY large portions, so bring your appetite…and a friend.  Double meat is a menu option if you have a complete lack of common sense.  I'd advise against it.
Slab is a relaxed BBQ joint with a great soundtrack.  Dope beats and lyrics, no beepers needed.
My Favorite Menu Item:
The Texas Tornado (SERVED ON A 14" TORTILLA FILLED WITH BRISKET, CHICKEN, TWICE-COOKED POTATOES, BBQ BAKED BEANS, ONIONS, JALAPENOS, & BACKYARD RED SAUCE)
#2 The County Line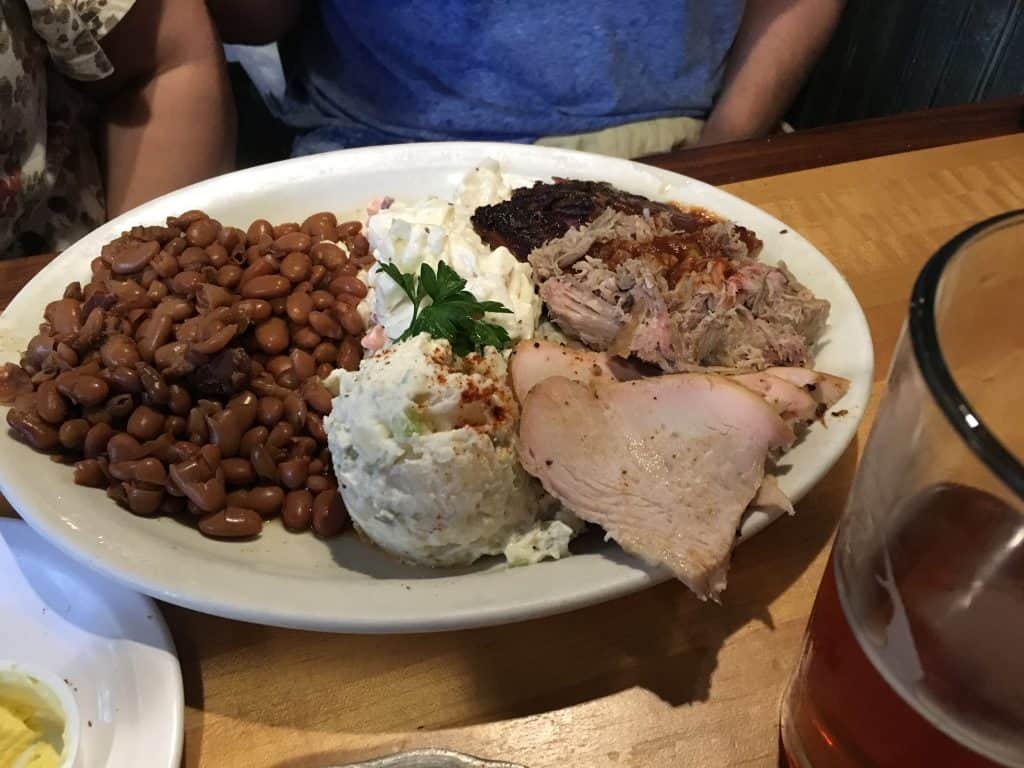 The County Line is actually a chain and I've eaten at the "Hill" location in Austin, as well as the one in San Antonio, on the Riverwalk.  Both were consistent and good, although the wait to be seated can be long at the Riverwalk location (get a drink from the bar, while you wait).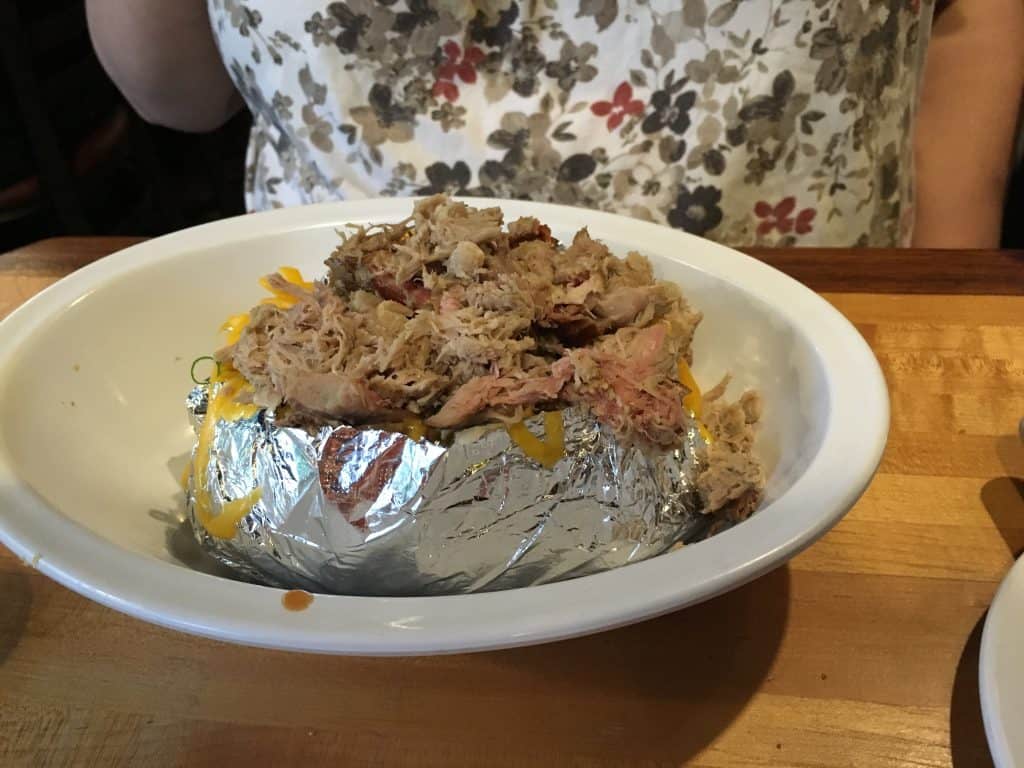 Casual family dining in a place that feels homey, like a vacation lodge.  The County line offers some unusual menu items like a meat stuffed potato and Mexican Deviled Eggs.  All meats were moist and flavorful, but the beans were the standout in my opinion.  I grew up with Boston Baked Beans, so BBQ style beans are something new to me.  I don't usually finish a side of beans, but I snarfed these down!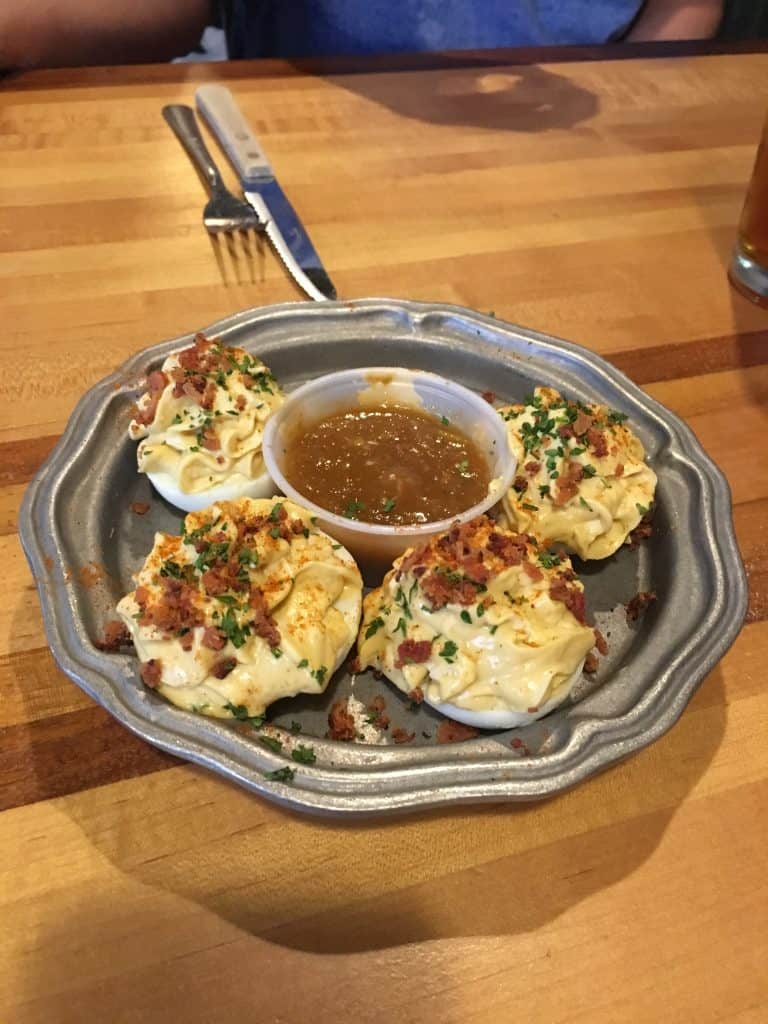 My Favorite Menu Items: Mexican Deviled Eggs and the Stuffed Baked Potato with Pulled Pork.
#1 Micklethwait Craft Meats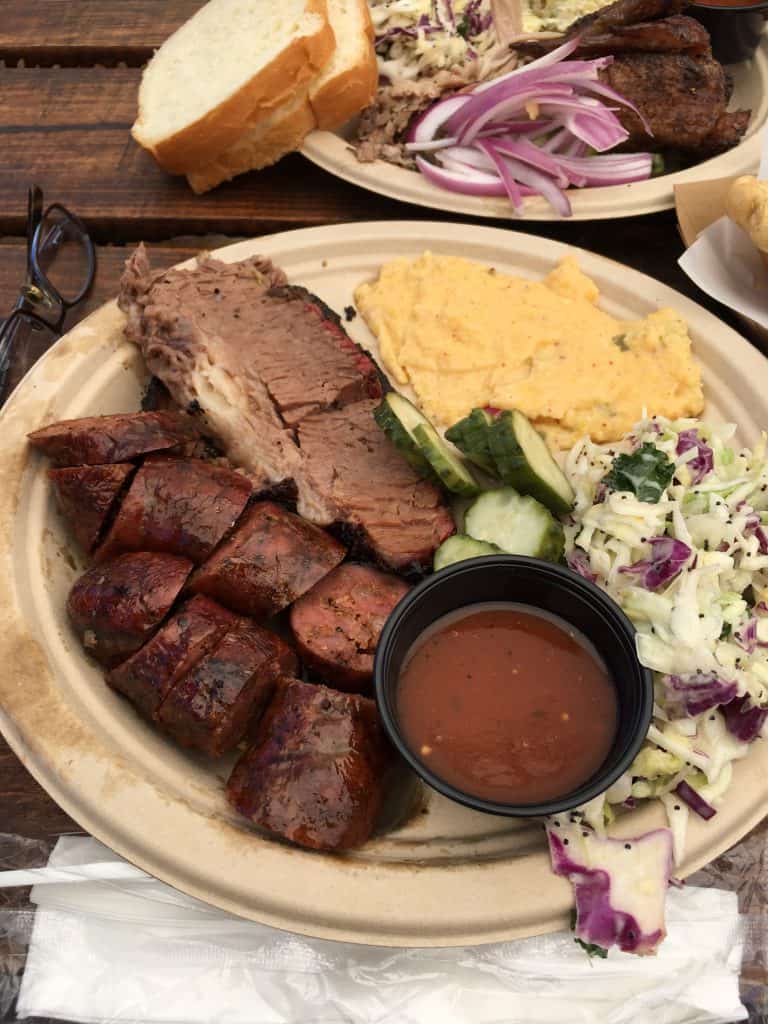 When you are in downtown Austin, but just don't have four hours to spare for Franklin BBQ, check out the Micklethwait's meat wagon.  It is BY FAR the best barbecue based meal I've had so far.  The coleslaw is outstanding as well, but when the meat is gone, it's gone for the day.
The last time I went, the Karbach brewing company was giving away free beer.  In my 50 years on planet Earth, I have never before seen free beer.  What a great way to get your brand noticed!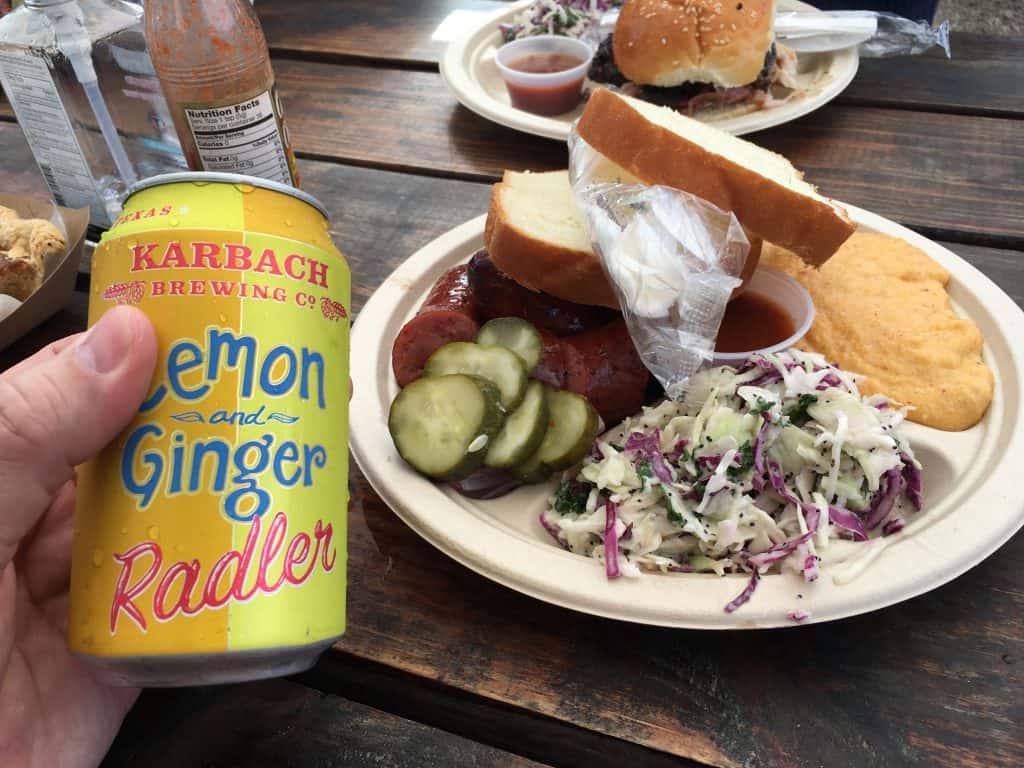 Finely smoked meats, a reasonable wait time, outdoor tables, bread and pickles, and sliced brisket, make this my number 1 pick for the best BBQ in Austin.  You'll find a ton of barbeque restaurants in Texas, but I doubt you will find better.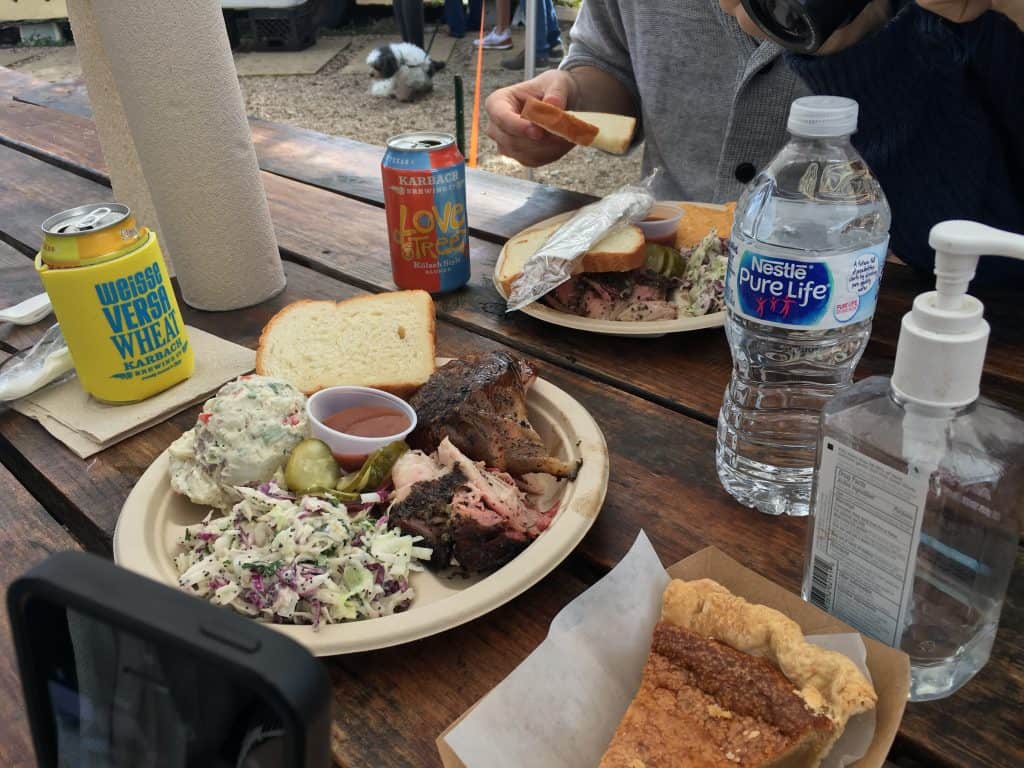 Micklethwait starts serving at 11am and I'd suggest you get there about an hour early to make sure you get your pick before they sell out.  There is a small lot next to the wagon but it can fill up early.  Since parking isn't great anywhere around downtown Austin, leave yourself a little extra time to park and walk over.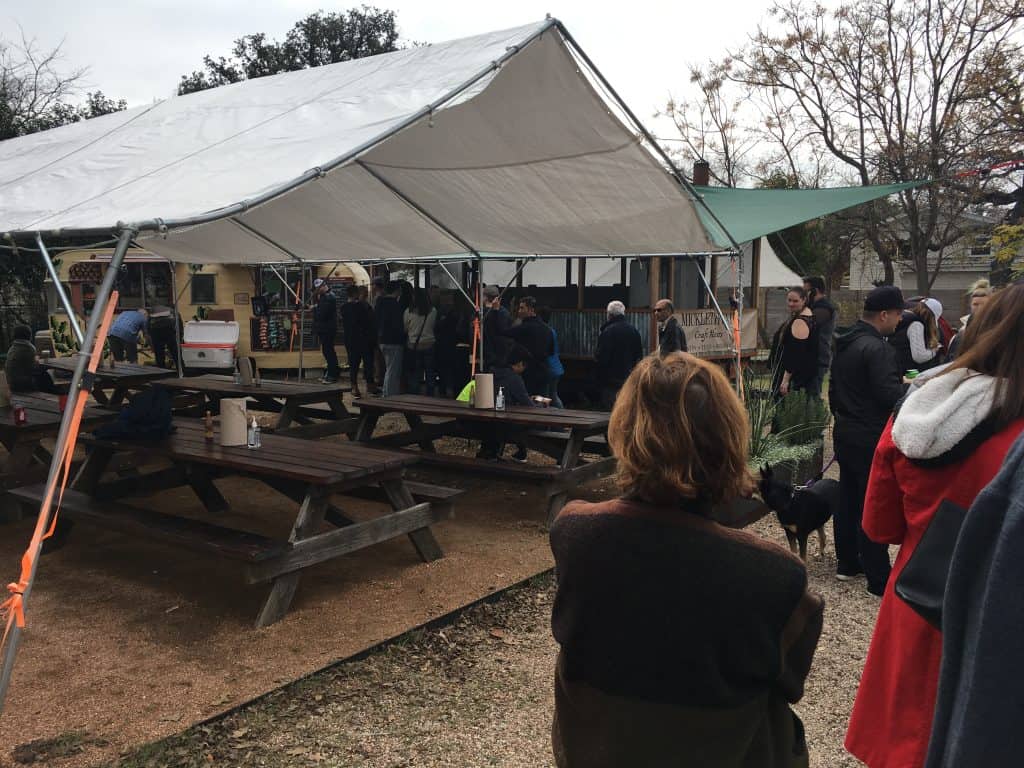 My Favorite Menu Items: Jalapeno Cheddar Smoked Sausage with sides of jalapeno cheese grits and just to be healthy, Lemon Poppy Cole Slaw (seriously the best slaw ever!)
Micklethwait Menu (or see photo, below)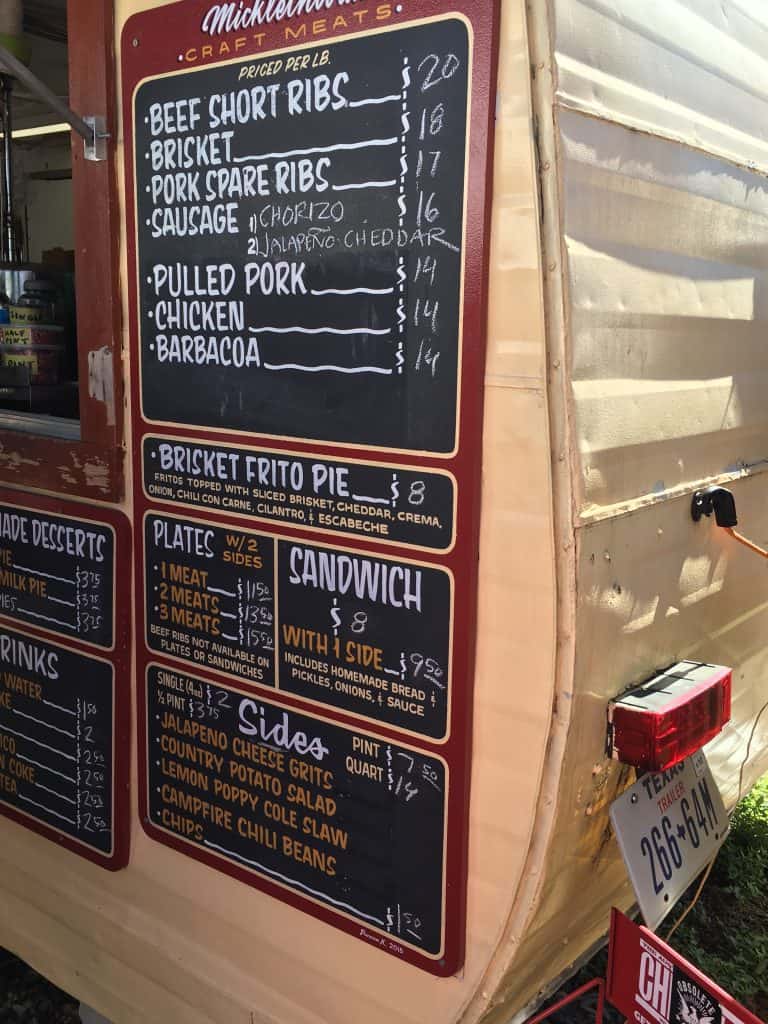 "But wait, what happened to #5," you say? Here's where I throw in a curveball and ensure that I will be lynched by BBQ purists the next time I visit Texas!
#5  Torchy's Tacos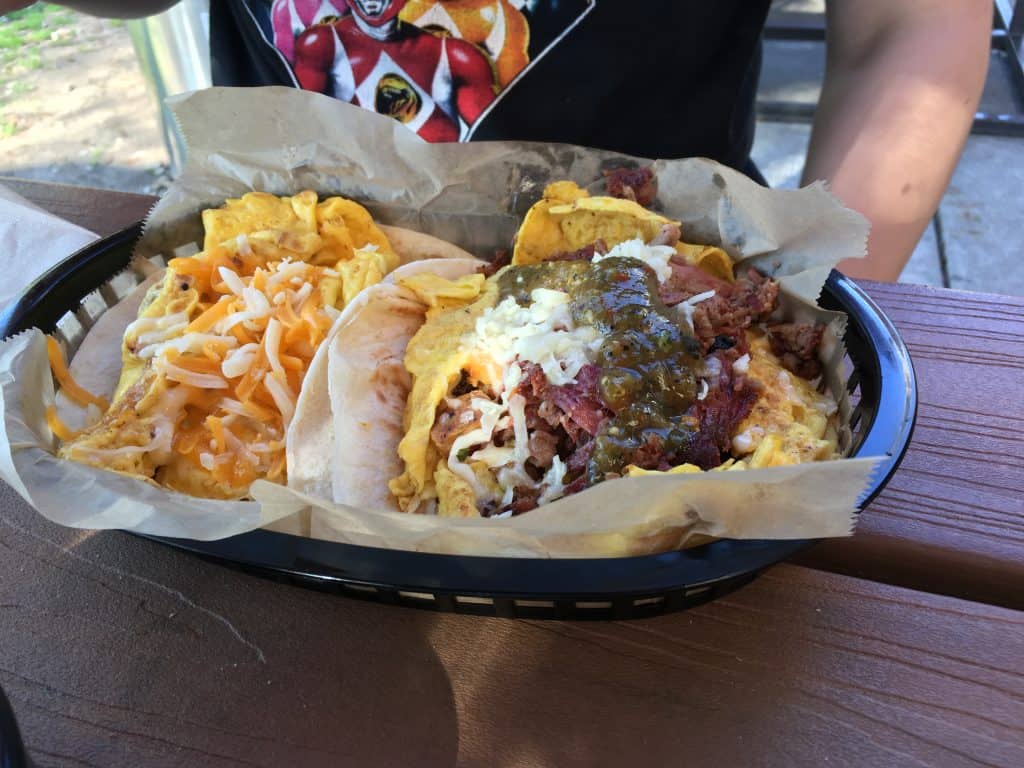 WTF !?!  A taco shack???  While this is technically not a BBQ joint, I can't do a foodie post without mentioning the place with the best frigging tacos on the planet!  Besides, they do have a taco called the Wrangler, which has brisket in it.  From the Torchy's Tacos menu, the Wrangler contains:
SCRAMBLED EGGS AND POTATOES TOPPED WITH SMOKED BEEF BRISKET & FRESHLY GRATED JACK CHEESE WITH TOMATILLO SAUCE ON A FLOUR TORTILLA.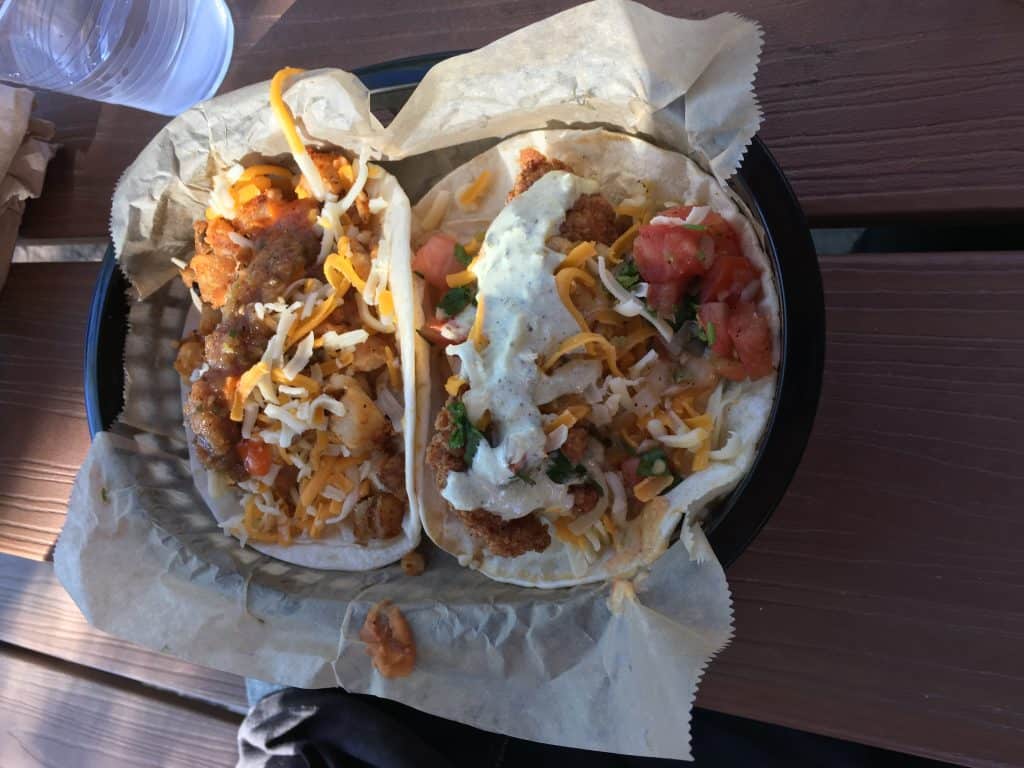 Yeah, BBQ and Tacos combined into a handful of wonderfullness!  What I really like about Torchy's is that they've been consistently good in my dozens of visits.  Also, they won't destroy your budget.  My boys claim that, "it's not as good a deal as it used to be," but I can stuff the 3 of us for under $25.  They also have water cups if you want to trim the budget a little tighter.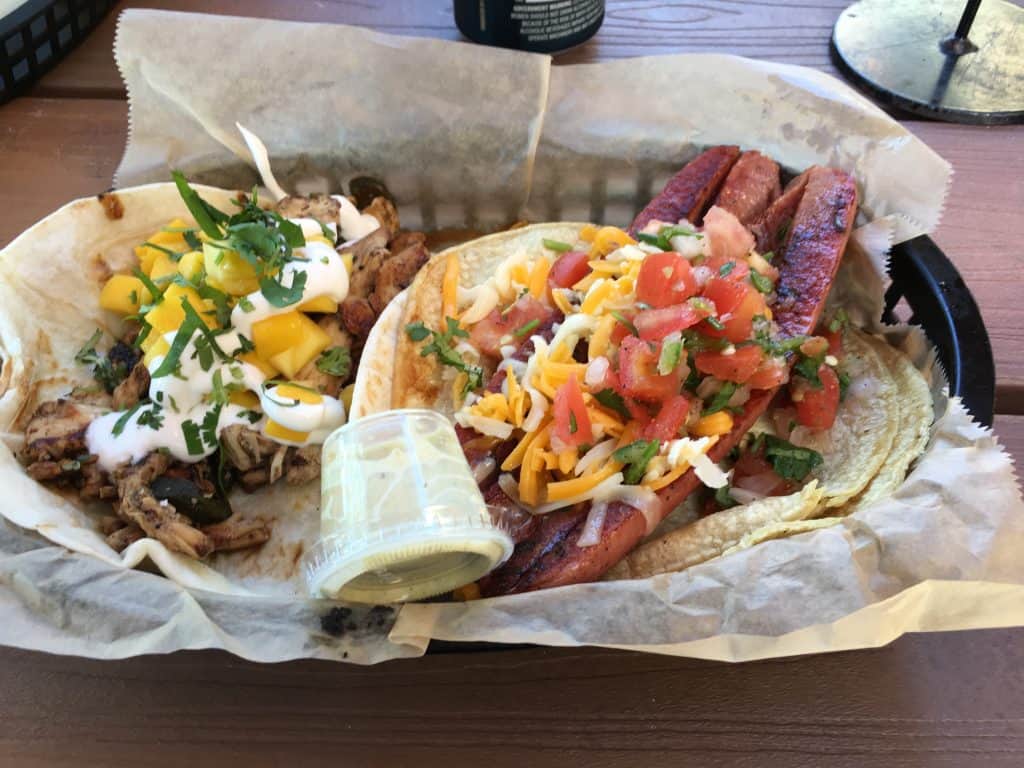 Favorite Menu Items:  The Trailer Park (get it Trashy style) and the Independent (a non-meat alternative)
So there you have my top 5 favorite BBQ places (sort of) in Austin.
While you might find your own favorite, you should make a point of trying these haunts the next time you are in town.
If you are looking to save some real money on campgrounds (like 100s of dollars),  check out my reviews of discount camping clubs, here.  These discount campsite programs are well worth the money, but you have to pick the right ones.
–Odyssey Camper
If you are familiar with Austin, you'll notice one place missing from the list.  Franklin BBQ.  It's not missing due to a lack of good BBQ, but rather, the wait.  People line up for a meal from this legendary place and wait for hours.  Like at least 2 hours and sometimes 4 freakin' hours!  That's just too long to recommend them and the general consensus from people that I've talked to is that Micklethwait is at least 95% as good (how's that for some fuzzy math).  However, if you have the time, Franklin is a must-stop destination! I'm just not going to put them on my list.