This system uses your console to hold a stealthy house battery and inverter system, that charges with solar or while the vehicle is running.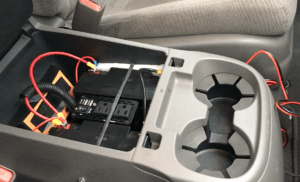 In four hours you can build this house battery system for your minivan RV or microcamper. 120v and 400 Watts of Inverter Power with 44Ah (expandable) of AGM battery power, plus it all fits in a minivan console! I built this for my Honda Odyssey minivan RV, but you can use the same parts to build it for any minivan. Here's the how-to video (complete parts list below)
Increase the capacity of this system by adding an external battery (or jump start pack), connected to the female cigarette lighter adapter.
I don't mention it in the video, but you could also get an extra 20Ah out of the system by plugging into the vehicle cigarette lighter and turning the ignition to the accessory position. That will let you charge for 2 hours. Don't exceed that time or you may run down the vehicle battery. But then you could always jump start it with the console batteries. Lots of redundancy and options here.
Here is the parts list for everything shown in the video, along with the prices on Amazon at the time of build:
(2 ea) 22Ah 12V Sealed AGM Batteries $45



10A Solar Charge Controller $15.50


800W Peak (400W continuous) Inverter


Female Cigarette Adapter
Extension $8.99
50W Solar Panel $64.99


Quick Disconnects


Crimp Tool with Bolt Cutter and crimp lugs (use yellow ones on 10 awg battery wires, blue for the rest) $10.99


10 awg Wire (to connect batteries together) $17.98


16 awg Wire (for everything else) $23


Optional 300W Inverter Shown in Video (note that you would only need this if running a 120 volt electric blanket. A pure sine wave inverter is needed to run it) $43


You can find all of my technical and minivan camper conversion DIYs, linked here.