I've been refilling camp stove propane bottles for years, using a brass adapter.  The adapter hooks to a standard gas grill tank and lets you safely and economically refill the green 1 lb cans.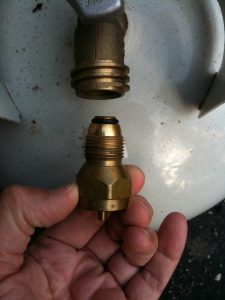 You'll need one of these propane refill adapters, but read the whole article, linked below.
These are the same bottles used for Buddy portable propane heaters and when my friends bought one of those, I told them about the adapter.  The trouble was, I couldn't find them anymore at my local hardware store.  But in my search, I did find a good article about refilling camp stove bottles, with a link to the adapters.  At about $12, the adapter will pay itself back multiple times over.
The complete article on refilling propane bottles is linked here
There are a lot of ways to run your propane devices, but if you are still using 1 lb bottles, this method will save you a lot of money.  I've refilled my bottles 100s of times without getting a leaky seal, but if you are concerned about it, just store them in your outside cargo carrier.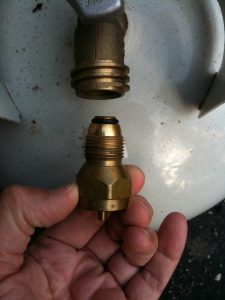 If you already carry the larger propane tanks in your RV, then this will really be easy.  For those of us that travel light, you can refill the tiny green tanks at home, using your gas grill tank.  Just don't smoke while you are doing it 😉
–Odyssey Camper
You can find all of my technical and minivan camper conversion DIYs, linked here.