If you are looking for a great place to eat in Custer, SD, I strongly recommend that you try the Black Hills Burger and Bun Company. 
I've stopped here on two different trips through the Black Hills and had a great experience on both visits.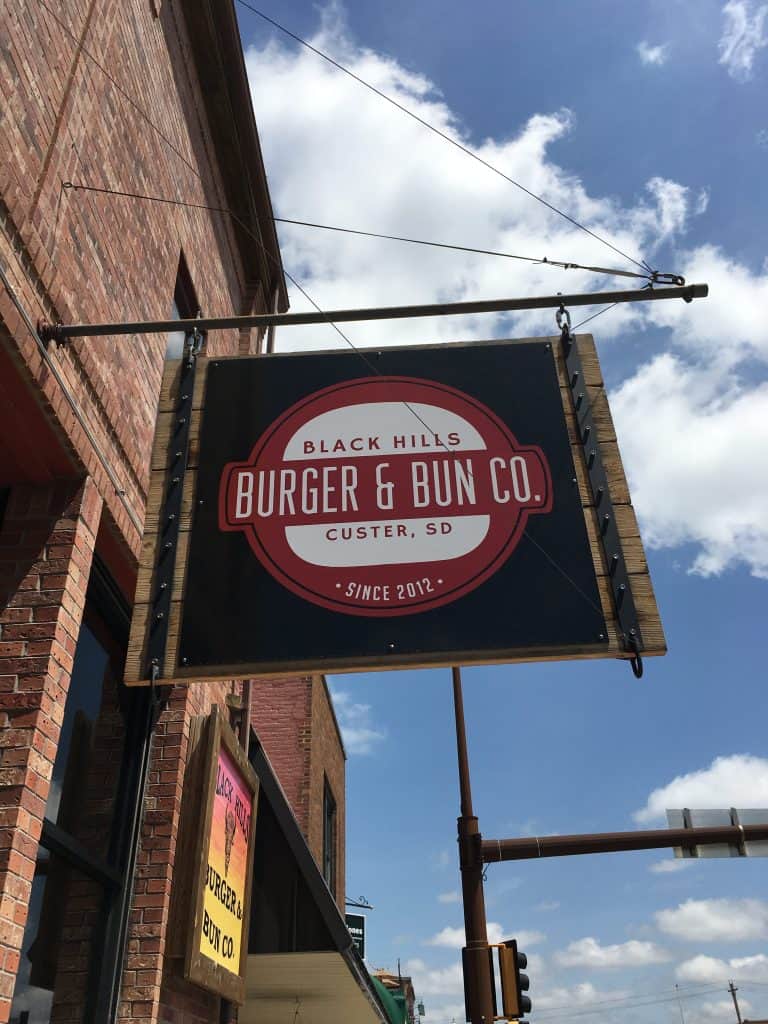 Admittedly, you have to like burgers to really enjoy this place, but they DO have veggie options if someone in your party is not a carnivore.  The "Very Veggie Sandwich" looks good with its spinach and sauteed mushrooms.  Let me know if you like it, because I'm getting the burgers!  On my 2017 trip through the area, I had the "Texan" which is fairly spicy with pepper jack cheese, jalapenos and chipotle BBQ sauce.  If you come from one of the nanny states, you'll also be pleased to know that you can still get your burger medium rare, here!
This place always seems to be busy and you may have to wait a bit for a seat (I waited 20 min on both a Saturday afternoon and a weekday) but it's worth it.  They fresh grind the meat and bake their own bread.  The burgers are exceptionally good and you can choose a beef or buffalo patty (hey, you ARE in the Black Hills after all).  The side dishes are better than average and I suggest the sweet potato fries or Granny's Baked Beans.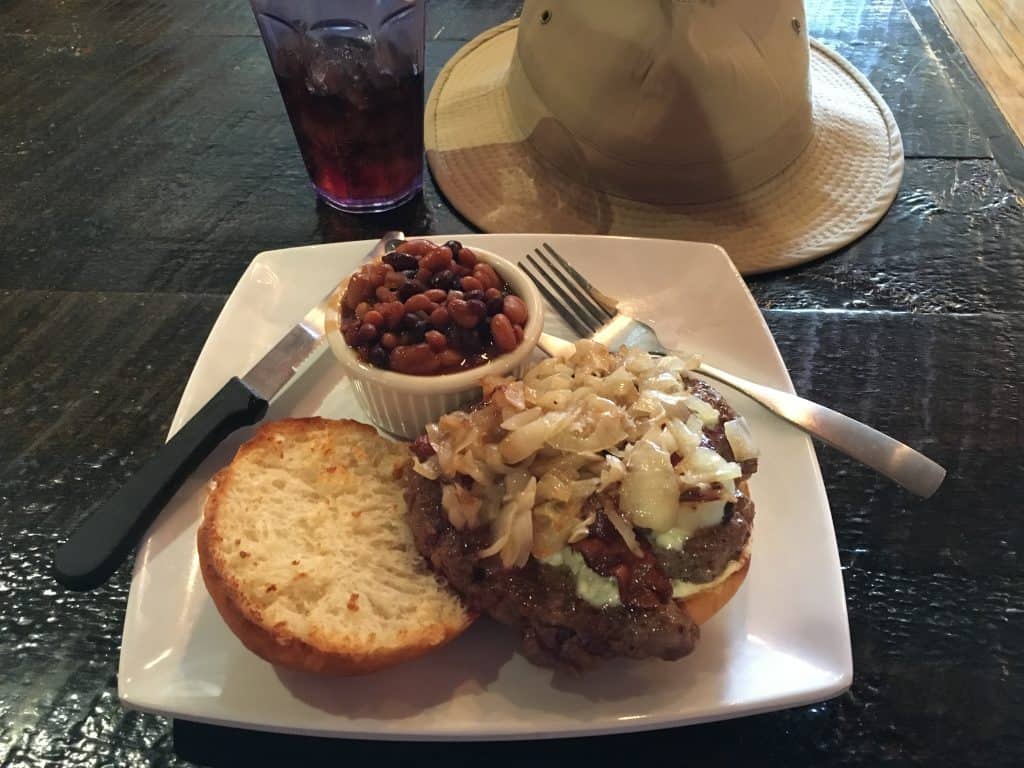 On my 2018 trip through Custer, I had the "Black Hills Blues" burger and a Dr. Pepper.  This thing was swimming in sauteed onions with a layer of blue cheese. Mmmmm
Here's a shot of the menu, as of June 2018.  Afterward, I discovered their online menu, located here.  Hey, wait a minute, it looks like they also have a black bean burger option in the "Lousy Hunter" or the "Loaded Hunter".  That makes three vegetarian options!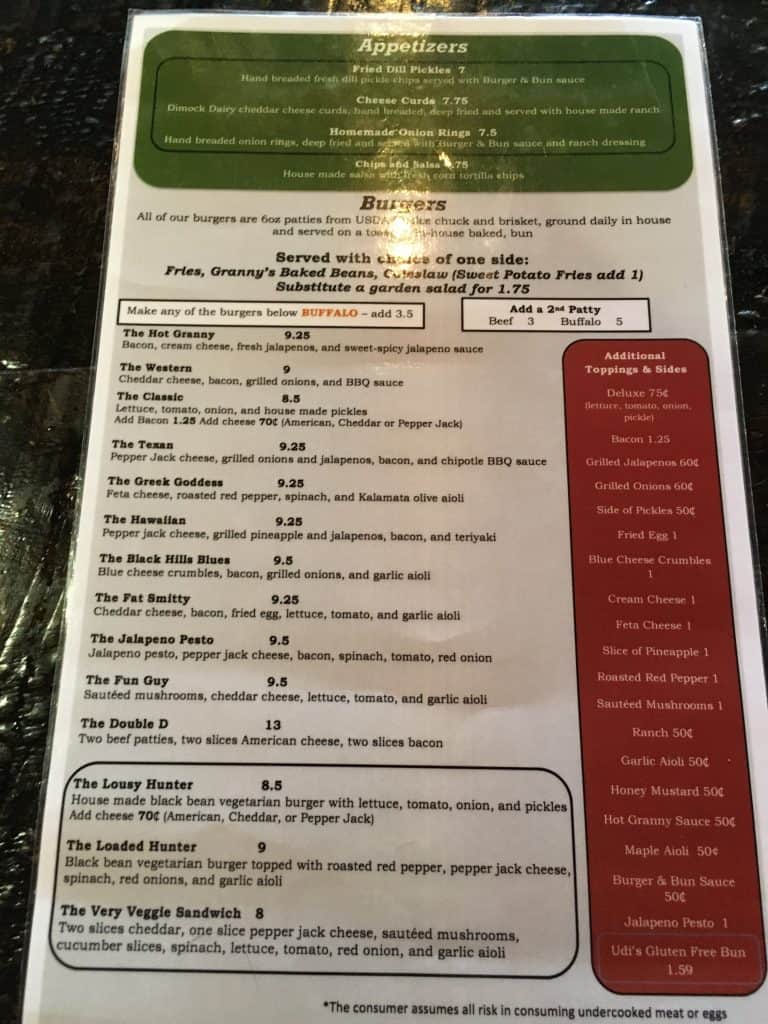 Maybe BEST of all is that the Black Hills Burger and Bun Company serves beer!  Although they don't brew their own, they have a good rotating list of craft brews.  Unfortunately, on both of my visits, I was heading someplace else and could not partake.
The tab on my second visit was very reasonable. In my opinion, this is a pretty good value for the quality and quantity of food!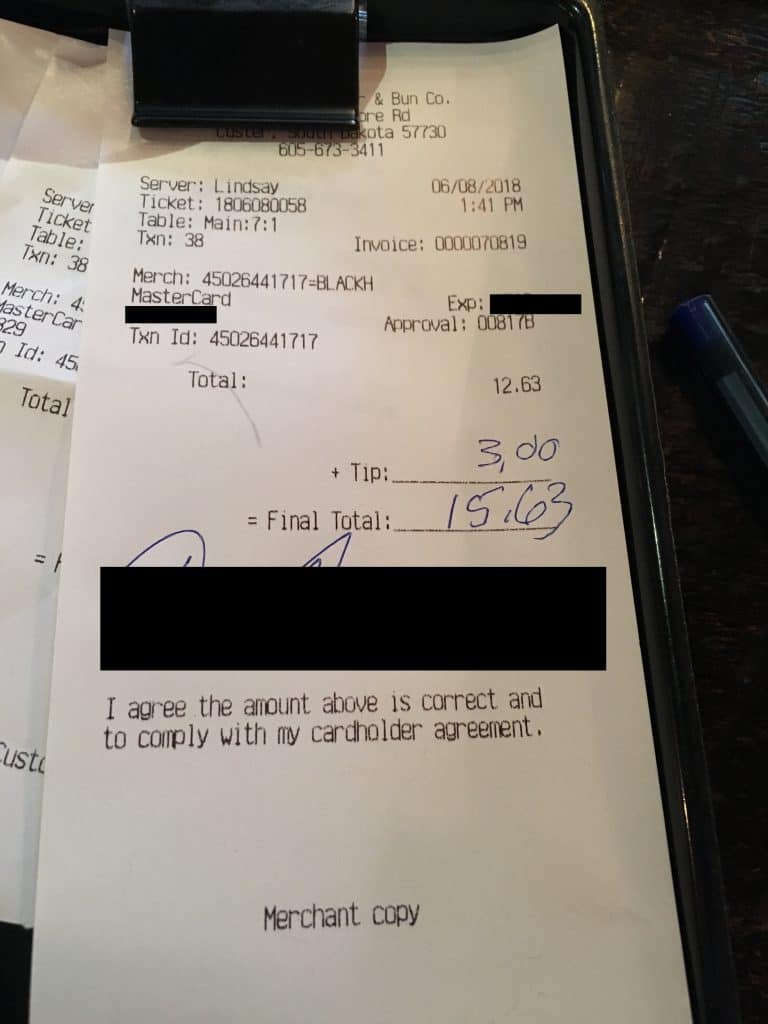 The servers for both of my visits were skilled and attentive.  Just remember that there are always more people trying to get in here at any given time than the restaurant can fit.  So, you are going to wait a bit to get in and then it may take a few minutes for a server to be assigned.  But it's worth the wait and once your server arrives, things move quickly.
There are also a number of antique and gift shops in Custer, if you go in for that sort of thing (and if you do, I suggest checking out the Dakota Territory Trading Post), but I had places to be.  On my first trip through, I was heading The Mammoth Site and the second time, I was going to Wind Cave National Park.  Both are close by and worth visiting.
Although the Black Hills Burger and Bun Company does offer desert, no trip to Custer is complete without some pie from The Purple Pie Place.  This is another "must-stop" which is located just 1/4 mile west on the same side of the road.  Be sure to read my review of The Purple Pie Place, here.
–Darren at Odyssey Camper



If you liked this review, or want to save it for later, just pin it!