Whenever possible, I prefer to dry camp (no hookups) on BLM land, or in National Forests.  However, there are times when a stay at a paid campground is in order.  It's at these times that I take advantage discount campground club programs to lower the cost of my stay.  But are these programs worth the price? 
So far, I've tried three of these programs and I have some thoughts on each.The discount camping programs I have personal experience with are:
Passport America
</div
 Good Sam Club

KOA Kard Rewards

I currently belong to all three "clubs" because they all have advantages and disadvantage.  Here are my reviews and suggestions about each discount camping program:
Passport America $44/yr
Passport America refers to itself as "the original 50% Discount Camping Club" and they have an EXTENSIVE listing of campgrounds.  My membership paid for itself in 3 nights, staying in spots with a small RV pad (nice to be level!), electricity, and water.  I think one had cable hookups too, but I don't need those.  If you are staying in tent spots, your payoff will be more like 5-7 nights because these spots are cheaper to begin with.  If you are traveling around the country for any length of time, you'll save many times the cost of the membership.
You can check out their catalog of campgrounds, here.
Unlike KOA, Passport America does not lock itself into one franchise.  They have over 1900 member campgrounds to pick from!  This can be good and bad.  If you've ever stayed at a paid campground, you know that the quality can vary quite a bit from place to place.  Of course, this is true of State campgrounds and boondocking spots too, but since you are paying less, your expectations are lower (meaning, you are more tolerant of hiccups at $8, than at $35 a night).  Still, I've stayed at dozens of their listed spots and I only found one that was, ahem, rough.  Those are pretty good odds and I saved hundreds of dollars along the way.  You can find an independent review of ANY campground you are planning to stay at on the campendium.com website, so it's worth looking there before you stay.
Passport America also has a very good app that's available for iPhone or Android.  I found it easier to use the app than the website directory.  Use the app to double check that the discount is available on the night you are staying.  If you stay in campgrounds the majority of the time, you can save $100s of dollars (or $1000s if you have an RV).  You can join Passport America here.
Good Sam Club $50/2 yrs (with $25 back in a Camping World certificate)
When my parents traveled the country in a Class C RV, they raved about the Good Sam Club.  Dad loved all their discounts, especially on gas and mom liked the consistency of their member campgrounds.  It's one of the oldest programs and they seem to do a good job of keeping the campground list, "more exclusive".  That's my subjective opinion based on about 8-10 Good Sam spots that I've stayed at.  Their base program is actually available for $27 a year, but I think the $50 deal with $25 back is the better buy.
In the Good Sam Club you get 10% off of your site, which is not a lot compared to the Passport America program.  However, Good Sam owns Camping World and the Flying J so your membership comes with related discounts on supplies and gas/diesel.  They list over 2,100 campgrounds (some overlap with Passport America) and have an app for your phone, but I could not get it to stay running on my iPhone.  If you shop online for camping and RV supplies and equipment, Camping World offers free shipping (orders over $39) for Good Sam Club members.
Good Sam also does something that the other clubs don't.  They sell insurance for RVs and are supposed to be very competitive price-wise.  I can't comment on that because I'm traveling in a minivan RV and it's not considered a "real RV" by their insurance program (on the other hand, my total insurance is pretty cheap anyway).  This illustrates something I noticed about the Good Sam program.  It seems to be geared more toward the RV owner than the van camper or tent hiker.  One of the sites I went to would not allow van camping at all unless it had a self-contained toilet.  That seemed silly to me because they had restrooms in the bathhouse, but I guess they were trying to keep out the riff-raff 😉
The Good Sam Club discounts on fuel, propane, and other things can be used even when you aren't staying at one of their campgrounds.
I consider the Good Sam Club to be a discount program that compliments the Passport America program.  The former is good for discounts on the things you need to buy along the way, and the latter is the better discount program for a campsite.
KOA Kard Rewards $30/yr
The KOA Kard Rewards program was the first discount camping program I signed up for, mainly because there were two specific sites I wanted to stay at (Devil's Tower and Palmer Gulch at Mount Rushmore) and I think this is how you should use it.  IF you are planning to stay at a specific KOA, this program gives you 10% off your site.  You also accumulate rewards points that encourage you to stay at more KOA campgrounds.  So in this sense, it is a "campground LOYALTY program" more than a discount program.  It can be a little difficult to figure out how many points you'll get for each stay, so I've put a couple examples of my own stays, below.  The examples were for basic RV spots with water and electricity.
From the KOA website:
"Points are used as an additional discount for your stay. You can use your points for a reward in conjunction with your 10%* off. The maximum you can use during your stay is $100 (50,000 points), and are only applicable to your daily registration fee. Points are applied during check-in at the front desk.
| | |
| --- | --- |
| 6,500 points | = $10 off |
| 15,000 points | = $25 off |
| 25,000 points | = $50 off |
* Applies to the daily registration rate. Not valid with special offers for weekly, monthly or seasonal rates, and cannot be combined with other offers. Check with specific KOA locations for details."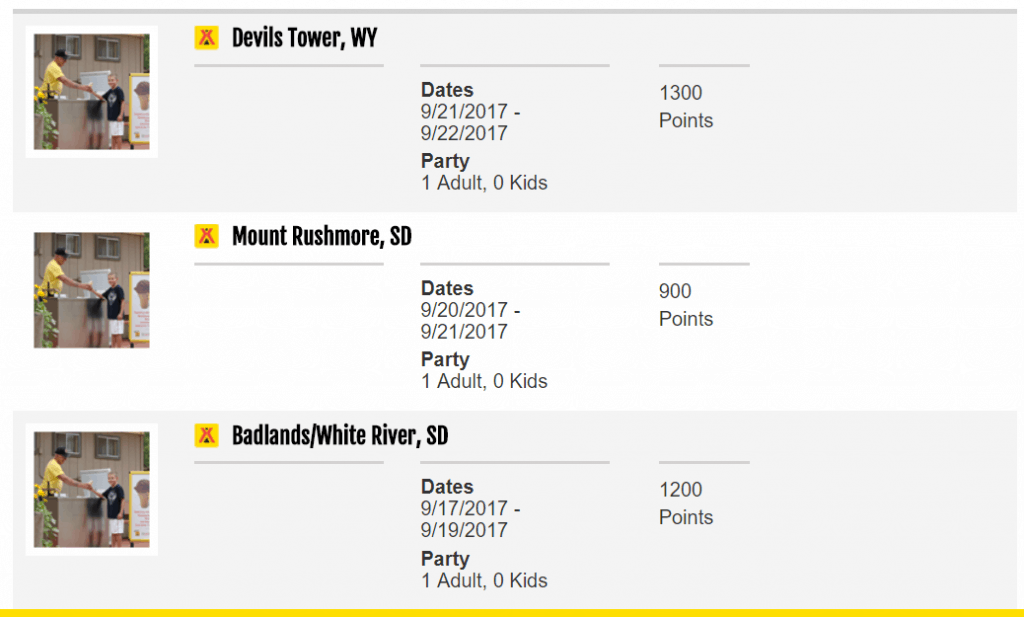 I think the KOA Kard Rewards club is worth the $30, IF there is a particular location you want to stay at for a few nights.  I really liked the Palmer Gulch location near Mount Rushmore and the campsite I had at Devils Tower had a fantastic view.  The franchise does seem to have some premium locations.  Otherwise, I find them overpriced for what you get
Note: I don't recommend the KOA at Badlands/White River, which is outside of the Badlands National Park.  It's essentially a grass field on the edge of the road.  There are better places to stay near Badlands, for free (see my video on YouTube).
My Opinions
In closing, I would say YES, each of these discount programs is worth the purchase price, but which is best for you depends on your trip plans.
For my money and the type of van camping I do, the Passport America program gives me more options.  Sign up now, you won't regret it!  However, you need to be aware that many of the campgrounds only offer discounts during the week.  That's less of a negative when you are on a long road trip, but if you plan to go camping on weekends only, check with the individual campgrounds (or check the app).
If I had a full sized RV and could only pick one club, it would probably be the Good Sam Club.  I'm driving a pretty economical Honda Odyssey, but if you have a larger RV, the fuel and CampingWorld discounts will add up fast.  I've heard that you can overnight for free at some CampingWorld locations, but I have not done this personally.
Remember that the price on the Good Sam Club is very resonable if you will be taking advantage of the Flying J gas discounts (there are a ton of these gas stations along the interstates)

KOA Kard Rewards? Yes, it's worth the money, but ONLY if you plan to stay at a number of specific KOAs.  If you are not particular on the locations, just use the Passport America campgrounds.
Additional Thoughts
If you happen to be a reader that thinks, "I'll never stay at a conventional campground when I can boondock for free" consider some of these reasons that you might:
1)  If you are visiting national parks and monuments, sometimes there IS no place to boondock for free and you'll have to book a campground.  Other times, the campground has a premium location that's worth paying for (see my post about the best camping spot for Devils Tower).
2)  These campgrounds often have amenities like a shower (yay!), a store, electrical hookups to charge your batteries quickly, water to refill tanks, and a trash drop.  So, you can stop one night a week and replenish your supplies.
3) Activities for kids!  My kids are grown, but campgrounds usually have a pool or lake for swimming and may have other activities like horseback riding.  Some like the Palmer Gulch KOA at Mount Rushmore, even have restaurants and a bar!
4) BLM land is almost non-existent east of the Mississippi and although national forest sites are an option, they can fill up fast in the busy seasons.  Also, they don't all take reservations.
5) If you are in a large RV, you may prefer campgrounds to get the full benefit of having hookups for power, water, and sewer.  It's also a good way to get in a relaxing night while draining and filling your tanks for an upcoming boondocking night.
I hope this helps you to buy into the right discount camping program.  Note that the prices on these programs often increase right at the beginning of the summer camping season or snowbird season, so it's a good idea to buy ASAP if you are thinking about it.  If you use our links for Passport America or the Good Sam Club, it won't cost you a dime more, but we'll get a little bit to keep the site running.
–Odyssey Camper
Note:  If you are traveling in a DIY camper (such as my Odyssey minivan) always ask the campground if they allow van campers.  I've not found a KOA that doesn't allow van camping (though some may put you at a tent site) but some of the small chains or single owner campgrounds limit the type of RV.  Some even limit the age of those RVs, so check ahead when in doubt.